What made "Sammy" stop running and other never-were adaptations.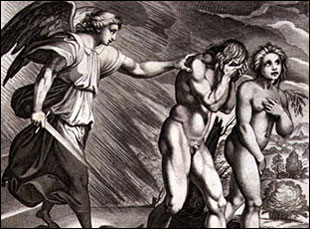 Posted by Vadim Rizov on
In what's easily the best thing he's done since, uh, guest star on "Undeclared," Ben Stiller took time out from mugging, shrieking and frittering away his talent to pay affectionate tribute to the late Budd Schulberg, who died August 5th. For the past few years, Stiller's evident frustration with Hollywood has been erupting in odd ways — spending $90 million on "Tropic Thunder" to prove how much he hates other blockbusters, mocking studios for having the gall to work with him — so it's not really a surprise that for over a decade, he and screenwriting partner Jerry Stahl sweated and ultimately failed to bring Schulberg's gold-standard indictment of Hollywood to the screen. And Stiller isn't alone in his frustrations with Tinseltown, here are a handful of other long-gestating adaptations that could happen someday, but probably won't.
1. Terry Pratchett & Neil Gaiman, "Good Omens"
Pratchett & Gaiman's widely beloved apocalyptic comedy managed to establish its reputation outside of the usual comics enthusiasts; with its lavish scope and extravagant visuals, it needed someone equally outsize to tackle it. Enter Terry Gilliam in 1999, who — with writing partner Tony Grisoni — emerged with a 150-page first draft in 2001. Various colorful status updates emerged ("You can report that Good Omens is proving to be FUCKING difficult to reduce to the FUCKING SHIT ASS limitations of a two FUCKING hour film"), until inevitably the project collapsed in on itself, joining the scrap-heap of Gilliam movies scuttled by bad luck, being too expensive or both. (In this case, the latter.) As of 2008, Gilliam still thinks it can be resurrected; Gaiman's recent track record of successful adaptations ("Stardust," "Coraline") gives him hope.
2. Don DeLillo, "White Noise"
DeLillo's inescapably influential postmodern landmark was slated for a long time to be Barry Sonnenfeld's dream project, presumably a reward of sorts for diligently slogging through the likes of "Wild Wild West." After years of sitting in waiting on Sonnenfeld's IMDB page, the project finally disappeared. DeLillo's work is hard to adapt because it relies so greatly on authorial voice and a density that doesn't necessarily translate to screen; 2006's "Game 6" — an original screenplay — was highly enjoyable, but best taken in ten-minute chunks, as it was so uncompromisingly DeLillo-esque. Still, there's little reason to believe Sonnenfeld couldn't pull off an unexpected triumph with this one; it's not like he doesn't know something about unseemly, unthinking commercialization and how bad it can feel in the morning. Witness this creepy Duracell commercial he directed:
3. John Milton, "Paradise Lost"
Harold Pinter spent three months in 1972 condensing all nine volumes of Proust's Remembrance of Things Past into a 445-shot movie that would've run two minutes under four hours. Since it was completely unfilmable in any kind of economically feasible way, it was published in book form and left there. But British author John Collier's condensation of Brit Lit I standard "Paradise Lost" — published in 1973 — has inexplicably had its option repeatedly renewed by producer Martin Poll, who's shooting for 2011. He'll be going up against a competing version…from the director of "The Exorcism of Emily Rose." This is one that just flat-out should never happen in any form. Blank verse declamations of a theological epic that shaped the Western mind for 500 years, enhanced with CGI angels and demons? Best to stick with "Constantine," I think.
4. Every single book Scott Rudin has ever optioned
Here's the thing — apparently, Rudin scans The New York Times Sunday Book Review and bestseller charts every weekend and immediately buys everything on the slightest provocation, even if it's plainly nigh-impossible to adapt. Jonathan Franzen's The Corrections was an Oprah's Book Club selection, but that doesn't mean its intricate chronological structure can simply be flattened into order and put on screen (or that a sequence where a piece of shit taunts an old man won't give viewers "Mr. Hanky" flashbacks). Rudin owns not one but two Michael Chabon epics (The Amazing Adventures Of Kavalier & Clay, The Yiddish Policeman's Union) that are just too sprawling to do, though Stephen Daldry and the Coen brothers are signed up to try. Just for fun, he bought Sean Wilsey's memoir Oh The Glory Of It All, perhaps inspired by the raging success of the Running With Scissors movie — proof positive that memoirs of upper society dysfunction are screen dynamite. I applaud Rudin's nerve, but c'mon: it'll never happen. Or maybe it will: anyone who bullied "Revolutionary Road" up to the screen, where it patently didn't belong, is not to be underestimated.
[Photo: "Paradise Lost," Gustave Doré]