Walt Disney's covert mission in Latin America.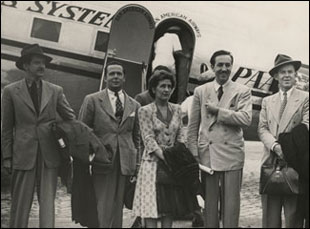 Posted by Stephen Saito on
Last week's purchase of Marvel Entertainment signified the start of a new era at Disney, but the studio has quietly spent much of this year commemorating their past with a series of feature documentaries that have not only provided insight into the nooks and crannies behind the Mouse House, but have been among the year's most compelling docs, period.
This week is a particularly notable one for documentary fans, Disney devotees, and history buffs in general with the release of "Walt and El Grupo," a recreation of Walt Disney's trip to South America in 1941 when the U.S. government asked the animator to serve as a goodwill ambassador who could possibly stem the tide of Nazism that was beginning to creep into such countries as Argentina and Chile during World War II. The trip couldn't have come at a more convenient time for Disney, who was facing a war at home — his animators went on a five-week strike for their right to unionize — and was unable to make the features he wanted at that time.
But despite the rough patch in history, director Theodore Thomas' chronicle of this period unfolds as elegantly as Disney's finest animation, with the film unspooling present-day footage of South America that is fleshed out further by the letters written home by the animators who traveled with Disney (nicknamed "El Grupo" after constant calls from the bellhops). As anyone who has seen the Latin-flavored "Saludos Amigos" knows, the diplomatic trip provided a creative jolt to those 18 animators, but more importantly achieved what is only imagined by Quentin Tarantino in "Inglourious Basterds": cinema saving the world. ("Walt and El Grupo" will open on Friday in New York and Los Angeles and a full schedule can be found here. Jim Hill Media has also compiled the many events planned to coincide with the release.)
And lest one think that Disney is burnishing its history with those bloodless, self-congratulatory docs that usually emerge when Hollywood history is retold on film, they simply haven't been paying attention. Earlier this year, the studio put out "The Boys: The Sherman Brothers Story," a criminally underseen doc about the fraternal songwriters behind such joyful classics as "Supercalifragilisticexpialidocious," who were such rivals that they refused to let their families meet each other, despite living blocks apart in the same city. Likewise, the Toronto Film Fest will soon play host to "Waking Sleeping Beauty," a more recent history of how the studio fell on hard times during the mid-1980s and rebounded with a string of hits like "The Little Mermaid" and "Beauty and the Beast," but not before driving off such talents as Tim Burton and John Lasseter. (A sneak preview in Telluride provided positive notices from /Film and FirstShowing.net.)
It's not surprising to learn via Thompson on Hollywood that Dick Cook, the current chairman of Walt Disney Studios who rose from humble beginnings as a monorail operator at Disneyland, has been supportive of these docs as a way of preserving the studio's rich history, but the real credit belongs to "Walt and El Grupo" director Thomas (son of legendary animator Frank Thomas), "The Boys" co-directors Jeffrey and Gregory Sherman (the sons of Bob and Dick Sherman, respectively), and longtime Disney producer and "Waking Sleeping Beauty" director Don Hahn, who have traded on their insider status to peek behind the curtain, revealing Disney's evolution, warts and all. For film fans, that can only be good news.
[Photo: "Walt and El Grupo," Walt Disney Studios Motion Pictures, 2009]