Video Premiere: The Shaky Hands – "Already Gone"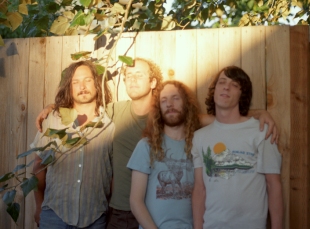 Posted by Brandon Kim on
Following a tour with The Meat Puppets last winter, Portland's The Shaky Hands, took a break when Nicholas Delffs (Vocals/Guitar) split for India. He "sang in the temples" and soaked in the country and it's music for a month and a half, but you won't hear any direct musical influence on the album it helped shape – they didn't go Bhangra. Delffs' Darjeeling Express affected him in subtler ways, perhaps it filters through in the lyrics, many of which were penned there. The India trip ended in a day-long flight back to the States and then a 37-hour drive to SXSW. Delffs must have been hilariously off kilter, but then 6th Street in Austin is too.
(The Shaky Hands. Photo by Miranda Lehman)
After the festival, the band hit the road with The Thermals and they fleshed out the songs live each night of the tour. Then the foursome went to Jackpot! Studios were they spent ten days recording eleven tracks with producer Jay Pellicci (Deerhoof, Erase Errata). We've got this exclusive video for one of those tracks, called "Already Gone," right here:
Was that a felt octopus? Clyde Petersen, a Seattle filmmaker and hand-made animator directed the vid. I think that was a felt octopus. The album, Let It Die, is out today on Kill Rock Stars! Get it here.
And hey, download "Allison and the Ancient Eyes," by The Shaky Hands.
Tour Dates:
10/08/09 – Boise, ID @ Neurolux
10/09/09 – Salt Lake City, UT @ Kilby Court
10/10/09 – Denver, CO @ Larimer Lounge
10/12/09 – Lawrence, KS @ Replay Lounge
10/13/09 – Iowa City, IA @ The Picador
10/14/09 – St. Louis, MO @ Firebird
10/15/09 – Columbia, MO @ MOJO
10/16/09 – Urbana, IL @ Canopy Club
10/17/09 – Chicago, IL @ Empty Bottle
10/18/09 – Pontiac, MI @ The Pike Room
10/19/09 – Rochester, NY @ Bug Jar
10/20/09 – New London, CT @ The Oasis
10/21/09 – Allston, MA @ Great Scott
10/22/09 – New York, NY @ Cake Shop (After the Jump CMJ Showcase)
10/24/09 – Philadelphia, PA @ Kung Fu Necktie
10/25/09 – Washington, DC @ DC9
10/26/09 – Chapel Hill, NC @ Local 506
10/27/09 – Charlottsville, VA @ Twisted Branch Tea Bazaar