Unlikely Activist Success Stories, Pt. 1: "The Cove"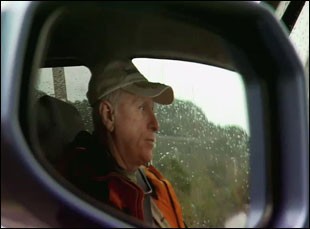 Posted by Vadim Rizov on
Most people generally are bothered by watching animals getting inefficiently slaughtered and writhing in agony; it's kind of a given, regardless of context. With dolphins being killed as its climax, Louie Psihoyos' "The Cove" is a slam dunk that way: it's unambiguous propaganda with a very specific goal, using cheap but effective narrative devices (and massive entertainment value) to win you over. The titular cove is in Taiji, Japan, where dolphins are speared bloodily, then their meat sold all over Japan with toxic levels of mercury inside; Psihoyos would understandably like to stop this, so he secretly filmed it.
The film itself is supposed to only act as a way of getting audiences riled up enough to join activist groups and for the star of the film, former "Flipper" trainer Ric O'Barry, to attract media scrutiny on Taiji; whether or not the movie lives on for years seems kind of irrelevant. And the propaganda worked yesterday, when O'Barry showed up in Taiji for the start of dolphin-killing season and no hunters were there. Which means that the movie — which has financially underperformed domestically — is "working" in the most important sense.
The thing is, I'm a cold-blooded guy; if you tell me in advance you're going to show me footage of dolphins being slaughtered until, finally, I'm watching dolphins being slaughtered, it probably won't change my mind about anything. "The Cove" does two things well. As widely noted (and as referenced in the movie itself), it's supposed to be an aquatic "Ocean's Eleven," a slickly packaged caper operation movie — which it is. But it also does a good job of showing how — even if the footage doesn't change your mind about anything — it could work that way for others. It's a movie that allows you to be sympathetic yet detached; it doesn't demand that you freak out at the end.
But the most important thing "The Cove" does is mediate between an activist and potentially activist but noncommittal audience. What Psihoyos does is retain O'Barry's passion and knowledge while mitigating the shrillness and overstatement that almost invariably attends any activist's persona. Those aren't bad things — they give you focus and drive — but they make it hard to convert the unconverted. O'Barry's news is great (although, you know, it's premature to assume that the dolphin killers maybe weren't just smart enough to skip that day and/or relocate), but the way he delivers it is kind of ridiculous. My favorite part of his statement: "Yes, today was a good day for dolphins. […] Tomorrow, too, I predict will be a good day for dolphins." That's ridiculous and exactly the kind of thing that would kill my interest. And that's exactly the kind of thing the movie was smart enough not to have people say. So good luck to O'Barry, and hopefully the media will keep getting his back, but this is about as far as I go.
[Photo: Ric O'Barry in "The Cove," Lionsgate, 2009]