Tyler Perry resurrects theater history.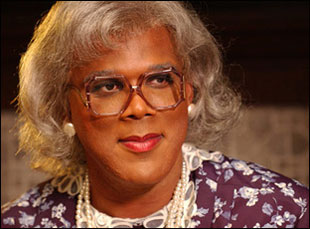 Posted by Vadim Rizov on
Although Tyler Perry's movies are wildly successful financially — $400 million worldwide and counting on negligible budgets — critical interest has been specialized, prone to esoteric theorizing and reactions generally erring on the side of baffled incomprehension at best. Like Pixar, every Perry movie is predicted to flop before release, but he almost always triumphs; his budgets are so low he's never had an outright flop. Critically, though, his respect level is about zero: his out-of-nowhere debut "Diary Of A Mad Black Woman" made $50.6 million and received a 16 percent approval rating on Rotten Tomatoes. Reactions have been slightly less virulent since, but that's mostly because most critics seem to have realized that Perry's work doesn't deflate from vitriol; it'll outlast everyone, and there's nothing to be done about it. A name that flashes red lights to most critics is one of the most marketable auteur brand names in America.
Which is why it's curious that Lionsgate has finally hired Perry to write, produce and direct his first film derived from someone else's work. And not just any play: Perry's taking on Ntozake Shange's 1975 Broadway landmark play "For Colored Girls Who Have Considered Suicide When The Rainbow is Enuf." This is, effectively, a big deal. For one thing, it's shockingly hard to think of a major African-American play that was filmed anytime after, say, 1961's "A Raisin In The Sun." August Wilson is nearly universally acknowledged as the preeminent African-American playwright of the second half of the 20th century, and none of his plays have been turned into movies — at least in part because Wilson demanded his plays only be staged or filmed with a black director, and Hollywood apparently could never find one). Indeed, filmed African-American plays from the last 40 years are rare, period; digging around Wikipedia's list of African-American dramatists and playwrights, the sole example I came up with was 1976's "The River Niger," based on Joseph A. Walker's 1972 award-winning play, and was reviewed poorly upon release: Roger Ebert's review hilariously denounced the melodramatic plotline: a father who goes on a drunken five-day bender, a son whose old street gang holes up in the family house hiding from the police, et al. "As a play, 'The River Niger' won a Tony and a Pulitzer," Ebert snarked, "but the movie doesn't show why." So that's that.
Based on the sample I've read, I'm not real sure Shange's play will make an easy transition from stage to screen, either. It's a choreopoem: 20 poems delivered as monologues. There are ones like "Abortion Cycle #1," featuring the dubious line "My eyes are in my thighs," with plenty of "tough issues" to go around. According to The New Yorker's Hilton Als, the play "combined the trickster spirit of Richard Pryor with a kind of mournful blues," which itself seems a bit dubious. More to the point: it's pretty much unadaptable, even to the most ingenious mind. Unless you're Pedro Costa, it's generally not considered cool to just film 20 desultory monologues delivered at the pace of your patience. And Perry, a proudly, self-consciously middlebrow filmmaker, has never been content to just imply when he can full-on nudge, point and shout. Which the play might allow for him to do, but he'd first have to organize it according to his usual unwieldy mix of light religiosity as needed in dire times, catatonically-slow-burning romance and incongruous comedy.
Which begs the question: having achieved massive commercial success, is Perry going for a more quickly acknowledged form of respectability, resurrecting a landmark of black '70s plays that would challenge his reputation as a clunky writer and ham-fisted director? This is certainly one way to do it: Perry's fundamentally middle-class sensibility doesn't seem to jibe well with what Als dubbed the play's "firebomb of a poem." Perry doesn't do firebombs. Perry does something that's accessible (broad emotions) and baffling (juxtapositions that don't make intuitive sense to, apparently, anyone but his target audience and contrarian critics); tackling Shange's play tosses him into sensitive, prestige-laced territory outside his sphere, in the realm of academically canonized African-American writing and history. I'm not sure where he's going with this; it'll be interesting to see if really tries to make a faithful adaptation (which is impossible) or just jacks a poorly remembered play title to market something unrelated. Either way, I'm intrigued.
[Photo: Tyler Perry in "Madea Goes to Jail," Lionsgate, 2009]