Toronto 2009: Neil Jordan Dives Into "Ondine"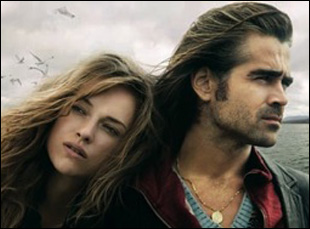 Posted by Stephen Saito on
When Neil Jordan was wondering what to do during the writers' strike last year, all he had to do was look out his window. Although the director of "The Crying Game" and "Breakfast on Pluto" has filmed in his native Ireland before, he had never shot the rolling hills or seascape, which provide the backdrop for his new film, "Ondine." The film tells the lovely tale of a fisherman named Syracuse (Colin Farrell) who discovers in his net a young woman (Alicja Bachleda) that his daughter strongly believes is a selkie. Strange things begin to happen in the presence of the woman they name Ondine — when she sings, Syracuse catches a bundle of salmon, and both he and his daughter Annie become entranced with their visitor, though she may not be who they think she is.
"Ondine" marks Farrell's second strong performance of the Toronto Film Festival, after "Triage," for which he lost 40 pounds to play a tormented war photographer. In "Ondine," he wears the weight of the world on his shoulders as an impoverished fisherman who finally sees a ray of light in this mystical creature. But this is a fairy tale told as only Jordan could, with delicate fanciful elements underlining the reality of life in an impoverished fishing village, and famed cinematographer Christopher Doyle on board to capture the crispness of the sea and the sorrow of the sky. It's a beautiful film through and through, and I was happy to have a chance to discuss it with Jordan at the festival.
So was this one of the only good things to come out of the writers' strike?
It was just one of those things where you experience the frustration of a project being stalled — which happens to many people. I said okay, I'm going to go to Ireland and write something personal. I had this image of a fisherman pulling a girl out of the water with a net. I didn't know if it would be a horror movie — if she would end up eating his children or drinking his blood. I didn't know where it was going. I began to sketch out the scenes and realized it wanted to be a kind of fairy tale, so I began to do a bit of reading on legends of sea creatures.
Every different culture has a sea creature — [in] the German or French version of it, there's a serious, beautiful tale called "Ondine," about a water sprite. The Irish and Scottish versions of it are selkies, people who are basically seals.
Is this the first time you had shot the Irish seaside?
Yeah, I had shot many movies in Ireland, but not in that kind of primal romantic landscape. I've resisted doing that, really, because most of the movies I've made in Ireland were quite harsh, but this had its own demands. I wanted that landscape to be expressive of a fairy tale, or of these people's need for a fairy tale. They're leading these harsh, poverty-stricken lives in this amazing land. The only one who seems to be out of that environment all the time is Syracuse, who's still trying to make a living on the boat.
Was it a different experience for you shooting so close to home?
No, normally, you write a film or get a script and you say, how am I going to find the place that expresses this scene's needs, whatever that may be? In this case, it was almost like I could design my own city… I designed a set for the movie itself. It was like I fit the story more into the landscape more than writing the story and then finding the landscape.
And it's shot beautifully by Christopher Doyle. What was it like working with him?
Chris Doyle, marvelous. He found both a romanticism and a harshness in his photography. On the one hand, you have the mythological beauty of those mountains and the sea. On the other hand, you have the grungy reality of the town, and the dark environment people living there create for themselves. Chris found a language for both of them — he's a very, very good photographer.
You've flirted between fantasy and reality in your films throughout your career — do you find that one informs the other?
In my movies, there's always a battle going on between reality and something else. I don't know if "fantasy" is the word for it, but between real explanations of the world and unreal ones. "The Company of Wolves," for example, is basically a fairy tale treated like a horror movie. "Mona Lisa" is a man trying to find a fairy tale in this noirish life that he's living, with Cathy Tyson, the prostitute he's driving around. There's always this element of my movies, I think, where the characters are searching for something other because the realistic explanations of the world are not sufficient.