Toronto 2009: "Micmacs"' Charming Arms Race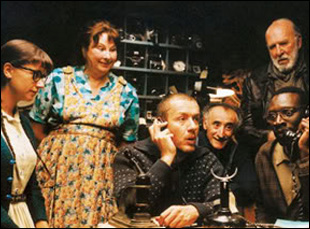 Posted by Stephen Saito on
Why there were a few scattered empty seats left at the world premiere of "Micmacs," I don't know. This is Jean-Pierre Jeunet, dammit, and after putting the excess of "A Very Long Engagement" behind him, he arrived in Toronto with a leaner and meaner comedy that seems to have been designed as a playground for his visual ingenuity and boundless imagination.
His partner in crime, the French star Dany Boon ("My Best Friend"), stars as Bazil, a video store clerk who's introduced to us playfully mouthing along to the dialogue in "The Big Sleep" before a freak gun accident leaves him with a bullet lodged in his brain. (The operating surgeon flips a coin to decide whether to keep it in or remove it and risk putting him into a coma.) Already having lost his father to a landmine during war, Bazil becomes an unlikely peace activist, igniting a feud between the heads of the two arms factories responsible for the tragedies he and his family have suffered. He finds an even unlikelier crew to help him — the denizens of a scrap heap who include in their number a human cannonball (Dominique Pinon), a bespeckled measurement expert named Calculette (Marie-Julie Baup) and a contortionist who can fold herself into a fridge (Julie Ferrier).
Jeunet leaves plenty of room for a sequel, which seems a must, since he can't help but give short shrift to all of his wonderful characters and creations here. Still, as far as a first adventure, "Micmacs" delivers in spades. Although the body contortions are best left to Ferrier, Boon's machinations are nearly as twisty in pitting the head of a landmine company (Nicolas Marié) and the head of a bullet company (André Dussollier) against each other to their ultimate destruction, starting out by interfering in a trade between the two of prized baubles like Marilyn Monroe's molar and Mussolini's eye.
From there, the tension rises between the two men, and Bazil and crew build bigger and bigger mouse traps for the arms manufacturers to ensnare themselves in. Much to the audience's delight, Jeunet puts all his creative energy into the details of Bazil's gadgets and elaborate schemes. Like Fatih Akin's "Soul Kitchen," "Micmacs" might seem like a diversion from bigger, more ambitious films for Jeunet, but it's a wildly entertaining one, as a standing ovation from the Toronto crowd attested. (Sony Pictures Classics recently picked up the rights.) Just don't ask Jeunet about the title: in his opening remarks, he turned to Boon to explain what it meant, to which Boon replied, "It's a kind of hamburger, but with a pronunciation problem."
One wishes that "The Joneses" were a little more creative — not with its plot, which is one of the most inventive for a suburban-set comedy, but in its dialogue, which only occasionally rises to the ingenuity of the premise. I'd prefer not to spoil the twist in Derrick Borte's comedy here (though, with fair warning, you can find it here), even though it arrives just a little over 15 minutes after meeting the titular foursome, a family that quickly ingratiates themselves into an unidentified middle class American town and become the envy of the community with both their charms and their considerable collection of fancy cars, pricey jewelry and general cache of luxury goods. Consumerism has taken a beating this year in Toronto with Michael Moore's new doc and to a degree, "Up in the Air," and the fate that awaits Steve and Kate Jones (David Duchovny and Demi Moore) and their two teenage children (Amber Heard and Ben Hollingsworth) for flaunting their wares around town comes down like a sledgehammer.
Still, after "The Joneses" reveals its true nature, it isn't nearly as daring or audacious as its set-up, although the film does benefit from some fine performances. Duchovny and Moore, two actors I must admit I've rarely enjoyed on film, have a natural chemistry and give performances that suggest that with age, they've shed some of the impervious cool that inhibited their earlier work. As a first-time filmmaker, Borte needs all the help he can get, and while he deserves credit for ably bringing his tricky script to the screen without compromise, he also makes some rookie miscalculations, like being too overt in signifying the film's overarching theme and using an overamped Ting Tings track to boost the film's pulse when the dialogue just isn't crackling. That said, Borte's debut is worth a look for its central idea alone, and Borte appears to be a filmmaker to watch in the future.