Toronto 2009: Edward Norton Talks to Himself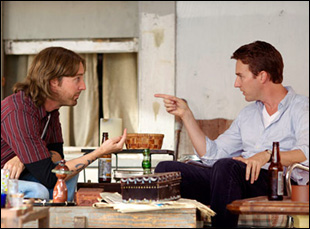 Posted by Stephen Saito on
"I walk around talking to myself anyway," Edward Norton told the packed Ryerson Theater after Monday's premiere of "Leaves of Grass" at the Toronto Film Festival. "Maybe this was just the way to get paid for it." Although the "Fight Club" star's played a few characters with dual personalities, this new comedy from Tim Blake Nelson marks the first time Norton has played two distinct characters. The Kincaid twins have gone their separate ways in life — Bill is a well-liked philosophy professor at Brown, while Brady is a deceptively smart hydroponic weed dealer. The brothers reunite when the straitlaced Bill returns home under the pretense Brad has died, only to discover that he's been unwittingly enlisted in one of his sibling's elaborate criminal schemes.
For Nelson, whose previous work behind the camera has dealt with heavy themes of small-town violence ("Eye of God") and the Holocaust ("The Grey Zone"), "Leaves of Grass" is a venture into unfamiliar territory. But he achieves the rare feat of making a raucous comedy with substantive ideas behind the action. The title alone is a canny reference to Brad's marijuana enterprise and to Walt Whitman famous poetry collection, in which he broke away from prescribed meter in favor of free verse — an allusion to the interruption in Bill's life that causes him to reflect on what he's missed out on in his pursuit of academia. Beyond fully realizing the details of the Oklahoma burg where "crossbows are inexplicably popular," Nelson creates a world rich with verse-quoting Okie noodlers (Keri Russell), Shabbat-worshipping drug lords (Richard Dreyfuss) and, of course, Norton's squabbling set of siblings. I got a chance to talk to Norton and Nelson the morning after "Leaves of Grass" premiered about their unique collaboration.
When did you guys meet?
Edward Norton: We met in New York, because I read a different script that Tim wrote.
Tim Blake Nelson: Yeah, and we have a mutual friend named Avy Kaufman, who always said "you and Edward would be real soulmates." I offered him the lead role in this other movie ["Seasons of Dust"] and we met to talk about it and he ultimately declined, but he was so gracious in doing so, the meeting stuck in my head. When I was writing my next script, I basically wrote it with him in mind.
Tim, you've starred in comedies, but haven't directed one, and Edward, you've directed a comedy, but rarely star in them — is there a reason for that, and what was the appeal of this one?
EN: A lot of the flow of choices you make just has to do with the karma of what comes to you. When Tim sent me this script, I wasn't really in the mood to do any acting. I had a happy window of writing and being relatively unbusy. He said, "well, I hate to say it, but I think when you read it, you're really going to want to do it." I laughed so much reading it — it's very, very difficult to not smile thinking about how you would play two characters who interact in this way.
But I also thought that underneath all this madcap comedy was a smart, lovely idea about a person trying to find balance in his life. I was impressed with the degree to which Tim had woven an actual movie about philosophy into this pot comedy. It was irresistible — not because it was a comedy, but just because it was so good.
TN: I didn't have a doubt in my mind that Edward would be wonderful in a comedy. He's just too good an actor. I'm an actor and interested in doing serious material as well, and I'm constantly told, "well, you're a comic actor," [so] I wasn't going to let that sort of prejudice stop me from letting Edward show the world what he's able to do — which by the way, he's done in "Death to Smoochy" and "Everyone Says I Love You." He's really light and funny in that.
EN: Actually, one young journalist yesterday [asked a similar question], and every time someone says "I don't expect to see you in a comedy," I say "isn't 'Fight Club' one of your favorite movies?" Did anybody miss that that's a comedy?
Edward, you've played many duel personalities, but when you're playing two separate characters, is it harder to play when you've fully developed and thought out the motivations of your twin?
EN: The best thing to do, I found, was to go through the process of discovery and imagining funny improvisations well before. The demands of the day when we were [shooting scenes with both twins on screen] required a certain amount of precision, since what we were doing was fairly lo-fi, not much more than locked off cameras. Once one character is done, the other character's rhythm has to fit within at least one of those takes, so you end up needing to consult together and figure out which one of those is our one to match–
TN: –usually Brady.