Toronto 2009: "Chloe" is Heated, "Whip It" Whips It Good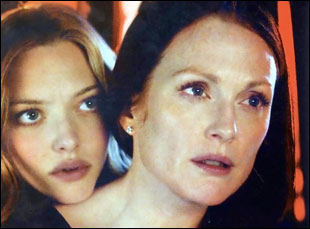 Posted by Stephen Saito on
Some may disagree, but I think there's something pretty cool about Toronto's mayor David Miller coming out to declare how proud he is of Atom Egoyan's new erotic thriller "Chloe." Of course, Miller was more likely taking pride in the depiction of his fair city than the film itself, which opens with Amanda Seyfried putting on a lacy black brassiere and never looks back. Egoyan has never shied away from the erotic — it's the thrills part that has eluded his work for mainstream audiences, and when we meet Catherine (Julianne Moore) at the start of "Chloe," she, too, is dissatisfied.
As a locally prestigious gynecologist, Catherine is smart and sophisticated, but in a foretelling scene, she informs a patient that orgasms are "just a series of muscle contractions." When her husband (Liam Neeson) fails to return home for a surprise birthday party she has planned for him, Catherine begins to suspect he might be having an affair. The clues start mounting, to the point that when Catherine discovers the titular prostitute (Amanda Seyfried) in a posh restaurant's bathroom stall sobbing, she senses an opportunity to confirm her suspicions about her husband's fidelity.
In the relationship between Moore and Seyfried, Egoyan also senses an opportunity to do his usual probing of human interaction — Seyfried's Chloe describes her dates with Catherine's husband as if she's giving a science report, except the testimony is sexually frank and even in monotone, she starts to turn Catherine on. What follows shouldn't be spoiled, though the film is a remake of Anne Fontaine's 2004 French film "Nathalie," and amazingly, Egoyan pulls off scenes that might make Parisians blush. Catherine's reluctant interest in her husband's extramarital affairs spirals into something completely different and overwhelming. It's actually the first of Egoyan's features that he hasn't written himself, but he found a natural partner in Erin Cressida Wilson, who straddled similarly lurid territory with her script for "Secretary" and develops two female characters as strong as Maggie Gyllenhaal's Lee Holloway for Moore and Seyfried to play.
For a film about strange bedfellows, it was only appropriate that "Chloe" producer Ivan Reitman explained his involvement before introducing Egoyan, who confided "I'm incredibly nervous" — this was the first world premiere he's had at Toronto since the debut of his first feature "Next of Kin." Reitman told the crowd that he had seen "Nathalie" in the same theater (Roy Thomson Hall) four years earlier and took to "the wonderful central idea," but thought "there's a lot more that could be done with this." He soon recruited Egoyan to make the film after "coming to my senses" about possibly taking a crack at the thriller himself, and the result is a film reminiscent of another Canadian — David Cronenberg, who was able with "A History of Violence" to make a film that adhered to his previous work but could enlist new fans.
Fun of a more wholesome variety could be found at the Ryerson Theater, where "Whip It" premiered. After a roller derby demonstration earlier in the day, members of the Toronto Roller Derby League came by to greet the ticket line with high fives as the crowds made their way into the theater. Drew Barrymore, visibly shaking during the film's introduction, looked like a queen bee in a yellow and black dress as she introduced her directorial debut, explaining that she put everything from her life in "a piggy bank and I crashed it all over the floor for this film."
If Barrymore was nervous about the film's reception, she needn't have been. Considering the excitement in the room, it probably wouldn't have mattered if "Whip It" was any good, but it's as confident a directorial debut as you'll find. Ellen Page stars as Bliss Cavandar, a Texas teen tired of spending weekends competing in beauty pageants to indulge her mother (Marcia Gay Harden) and serving up "Squealers" (one of those huge burgers you have to eat in under three minutes) as a waitress at the Oink Joint. When she takes a rare adventure out of her small town of Bodeen to buy boots, a group of turquoise-haired roller derby girls come bounding in with fliers for an exhibition match. Soon enough, Bliss is transformed into Babe Ruthless, a rising star of the circuit who makes up for her diminutive size with her speed. She also finds kindred spirits in her teammates (Barrymore, Kristen Wiig, Zoe Bell and Eve, among others), though the divide between Bliss and her real family continues to grow.
It's not difficult to see where all of this is going, but Barrymore isn't reinventing the wheel with "Whip It," nor is she ever left spinning them, either. Like the smartest actors-turned-directors, she's called in a number of favors and surrounded herself with some of the best in the business behind the camera — Wes Anderson's cinematographer Robert Yeoman lenses the film and frequent Paul Thomas Anderson editor Dylan Tichenor, whom Barrymore dubs "Final Slut Pro" in the closing credits, give "Whip It" first-class production values. And although the film is clearly a personal story from first-time screenwriter Shauna Cross, it comes bursting at the seams as an extension of Barrymore's infectiously bubbly personality, overstuffed with hip music, food fights and hard-hitting roller derby footage.
[Additional photo: "Whip It," Fox Searchlight Pictures, 2009]