Toronto 2009: "Up in the Air" Flies High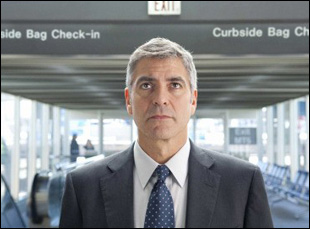 Posted by Stephen Saito on
Four years ago, a friend of mine came home from Toronto disappointed by the premiere of "Elizabethtown," Cameron Crowe's ill-fated, deeply personal story of a man coming home to bury his father. The director of "Almost Famous" and "Jerry Maguire," Crowe was a true heir to Hal Ashby when it came to making melancholy and emotionally moving mainstream entertainments, yet when his cut of "Elizabethtown" (that was ultimately trimmed down in running time) failed to win over audiences here, it was hard to imagine when someone would attempt tp do so again.
"Up in the Air" will be easy to overpraise — it touches on larger themes of mass unemployment, cultural alienation and technology as a crutch. But ultimately, it's really an expertly done character study that's a dramatic change of pace from director Jason Reitman's previous two films, "Thank You for Smoking" and "Juno," comedies that led with their punchlines and landed the knockout with their heart. George Clooney's Ryan Bingham is invested with the same degree of detail as Nick Naylor and Juno MacGuff, but he's no spunky extrovert — he's the guy who nurses a drink at the end of the bar, and is pretty comfortable with that arrangement. Bingham isn't some happy anomaly content with shaking things up from time to time. He's an enigma to nearly everyone around him.
Conveniently, he works a gig that requires him to be lonely, as a traveling grim reaper for companies who outsource their layoffs. He's good at his job, and it's good to him — Bingham is constantly popping peanuts on airplanes, soaring away from any commitments except to his goal of exceeding ten million frequent flier miles and the ultra-exclusive club card that comes with it. As his scruffy boss (Jason Bateman) enthuses, these are "boom times" for their business and Bingham stands to collect a windfall in miles, until an eager beaver technology expert (Anna Kendrick) unveils plans to revolutionize the layoff process by delivering the bad news over a T1 video connection. Much of the film that follows is devoted to Bingham showing the newbie the ropes on a cross-country tour where the layoffs get harder to handle and Bingham's growing attachment to a fellow traveler (Vera Farmiga), who at one point tells him, "think of me as yourself, but only with a vagina," is leading him to question his priorities.
Obvious parallels are being drawn to Clooney's real-life status as a the world's most famous confirmed bachelor, but whether "Up in the Air" led to some real soul searching or not, the film is more deeply felt for its subversion of his cheerful lack of attachments into someone who may not have it all. Clooney can still kill with a snarky one-liner or a raised eyebrow, but his performance is more soulful than charming, and he appears to have given everything to the role, including what appear to be personal high school basketball pictures. As for Reitman, if he wasn't credited enough for the success of "Thank You for Smoking" or "Juno" by those who believed the influence of Alexander Payne and a collaborator like Diablo Cody overwhelmed the his light touch (a crowd I'm not amongst), he emerges here as a filmmaker with chameleonic potential and endless possibilities.
Don Roos is clearly capable of making crowdpleasers, as his script for "Marley and Me" or his writer/director debut "The Opposite of Sex" will attest; it's just that he prefers not to make them. It took me his last three films, "Bounce," "Happy Endings" and now "Love and Other Impossible Pursuits" to realize that I no longer can stand to be in the same room with his characters.
Granted, the ones in "Love" aren't really Roos', they belong to the book the film is based on by Ayelet Waldman, yet one can see the attraction for the writer/director. His dialogue is as crisp as ever, but sadly, it's put in the mouths of mopey upwardly mobile types who deal with grief in the most self-destructive ways possible. Such is the predicament of Emelia (Natalie Portman), a recent hire at a tony New York law firm who falls for one of her married colleagues (Scott Cohen). She confides to a co-worker that she goes weak in the knees when she's around him, which is about as romantic a notion there is to be found in "Love" before she proceeds to seduce him, unexpectedly gets pregnant, destroys his marriage and sees her child die only days after it's born. To add insult to injury, she also gets saddled with looking after her new husband's young son (Charlie Tahan), who intentionally or not, baits his new stepmom with casual chatter about the dead baby.
All of this is exquisite to look at, thanks to the cinematography of Steve Yedlin, but really ugly to take in. As one character tells Emilia late in the film, "you're the hardest on the ones who love you the most," which may be why she ignores the pleas of her lactose-intolerant stepson to not be forced to eat ice cream or takes any opportunity to berate her family and friends in public. We learn through flashbacks that Emilia was once quite fun and flirty, but those days of luxurious long locks and plunging necklines have given way to crunchy curls and scarves after the death of her newborn.
The only person more bitter than Emilia is her husband's ex-wife Carolyne, played by Lisa Kudrow, who can always be depended upon in Roos' films to show up for a few scenes and steal the picture, partly because she is at her most acidic and partly because her vitriol comes from being the only innocent in Roos' scenarios. There's actually something noble about Roos' persistence in presenting characters so thoroughly despicable you rarely see them as protagonists, but by the time Emilia and her mother (Debra Monk) leave a movie theater debating the plausibility of the romantic comedy they just saw and Emilia's mother insists, "Sometimes good things do happen," you're just not sure whether you'd want them to happen to any of the characters in "Love and Other Impossible Pursuits."