Toronto 2009: "Jennifer's Body" Could Use Some Work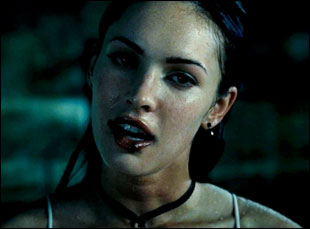 Posted by Stephen Saito on
Even though Telluride stole a little of Toronto's thunder with a sneak premiere of Jason Reitman's "Up in the Air," the foremost film festival in North America is not about to let anyone forget that it was the place where "Juno" debuted two years ago. All three "Juno" principles — Reitman, screenwriter Diablo Cody (with "Jennifer's Body"), and star Ellen Page (the lead in "Whip It!") — are back up north with new films, and the most direct descendent, the Reitman-produced and Cody-penned "Jennifer's Body," was the first of the three to premiere in the midnight madness section on Thursday.
An émigré of the dearly departed Fox Atomic label, "Jennifer's Body" arrived in Toronto with plenty of baggage, but came across like catnip to the friendly audiences in a country that gave birth to the "Ginger Snaps" franchise. Though Cody has said her follow-up to "Juno" was inspired by '80s horror films like "Fright Night" and "Nightmare on Elm Street 3," it's the Canuck werewolf tale of two sisters — one infected and one looking for the cure — that "Body" most resembles. Not that Jennifer (Megan Fox) is in the least lupine — she's a demon who, much to the dismay of her friend Needy (Amanda Seyfried), begins to feed on the boys in their high school.
One wishes that director Karyn Kusama showed as ravenous an appetite for genre in her adaptation of Cody's eminently quotable script — the snap of the latter's pop culture references and puns occasionally connect, but are usually steamrolled by Kusama's heavy-handed efforts to push through a plot that seems made up as it goes along. Then again, no one can accuse Kusama of not indulging the film's likely audience — Seyfried asks Fox if she's wearing her "Evil Dead" t-shirt shortly before the two make out. And Kusama does manage to push the envelope with what's unusually subversive imagery for a mainstream film (Fox's first appearance as a demon with a Cheshire Cat grin is rather unforgettable, especially when there's an implication she's been raped).
If we're still playing six degrees of "Juno," "Up in the Air" star George Clooney's other film in Toronto, "The Men Who Stare at Goats," screened for press and industry on Thursday afternoon to mild applause. Based on Jon Ronson's nonfiction account of the U.S. military's experiments with psychic warfare, the film's opening title card reads "More of this is true than you'd like to believe." Moments later, we meet Bob Wilton (Ewan McGregor), a down-on-his-luck journalist for the Ann Arbor Daily Telegram who stumbles onto a lead about a troop of U.S. soldiers who were trained to become "psychic spies."
After an interview with a former soldier (Stephen Root) who stared a guinea pig into cardiac arrest, Wilton tags along with Lyn Cassady (George Clooney), the most intuitive member of the New Earth Army, a secret unit trained to use their minds in response to violent confrontation after the discovery by one soldier (Jeff Bridges) that most of his command isn't psychologically capable of killing another human being. Instead, the specialized troop communicates in New Age-y buzz phrases like "psychic disincentive" and "optimum trajectory" and practice skills like cloud bursting to preserve their mental acuity.
"The Men Who Stare at Goats" was helmed by Clooney's producing partner Grant Heslov and it couldn't come with a more impressive pedigree — besides the cast, the screenplay, by Peter Straughan, was on the 2006 Black List of best unproduced scripts. On the technical side, cinematographer Robert Elswit ("Magnolia") and composer Rolfe Kent ("Election") bring their usual panache. But "Goats" never quite adds up to the promise of all its involved talent, working fine as a broad comedy about a hippie squadron until it faces a third act where it must either embrace or reject the psychic hooey it's spent the majority of its runtime mining for jokes. The filmmakers also made a critical error in casting McGregor in the lead, a choice that seemingly was made because of his "Star Wars" past — there's a running gag about the psychics calling themselves "Jedi warriors" that he's amusingly oblivious to — than the other qualifications of playing a risk-averse Midwestern beat reporter. As the often-shaggy-haired Cassady, Clooney comes out unscathed, relying on the crazy eyes he developed in the company of the Coen brothers to convincingly pull an apprehensive McGregor through an unspecified mission in the Kuwaiti desert.
The only trace of irony in "Creation," the festival's opening night film, can be found in its title, seeing as the Jon Amiel-directed drama chronicles the most destructive period in the life of Charles Darwin, as he debates whether to publish his groundbreaking "On the Origin of Species" and contends with the failing health of his ten-year-old daughter Annie. If that sounds serious with a capital S, it's because it is, but with Paul Bettany in the lead, the film avoids being crushed under the weight of its own self-importance. Along with his real life wife Jennifer Connelly playing Darwin's spouse Emma, Bettany's impressive turn as the famed naturalist invites the audience in with his passionate intellectual curiosity and keeps the film afloat when things turn sour.
[Additional photo: "The Men Who Stare at Goats," Overture Films, 2009]