The Architect of All Tomorrow's Parties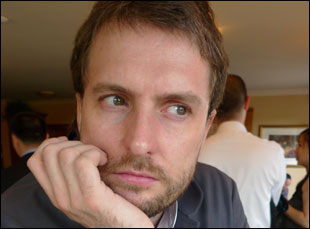 Posted by Brandon Kim on
Barry Hogan is the founder of All Tomorrow's Parties, the now-infamous festival that began in 1999 as the U.K.'s answer to other commercialized, corporate-sponsored festivals. Another key difference from those other festivals is the location — ATP takes place at unique locations like the holiday camp at Camber Sands in Sussex where it first started and, as of last year, Kutsher's Country Club in the Catskills, which has become the festival's home in New York. Recently, Hogan told me all about how corporate douchebags have ruined music, the film he executive produced about ATP, why he and his wife have their hands all over everything, and I also put him on the spot about his dream guest curator for ATP… and it's not a musician.
How does it feel to have All Tomorrow's Parties celebrating their 10th anniversary as an organization?
It's interesting because when we first started doing the first one in England, there was no alternative festival, so it was just like Glastonbury and Reading. They're pretty commercial festivals and they had huge rock acts, and when we decided to try and do this in a holiday vacation camp in the U.K., I think a lot of people thought it was going to fall flat on its face. But it was an oasis for a lot of people who were into alternative music, but didn't really have anywhere to go and celebrate, seeing all these bands in one place. So I guess it's a good milestone to reach after 10 years, something that some people didn't have any faith in.
Why did you pick Kutsher's for the New York destination? Is there a kindred feeling with Camber Sands?
Yeah. It was actually the manager of Dinosaur Jr., Brian Schwartz. He used to go there as a kid and he suggested that we try and do something in the Catskills because there's so many beat up holiday resorts [there] and he suggested Kutsher's. I think it's the closest thing we've got to the U.K. edition and it's also a unique spot. I think it's a bit different from standing in some field somewhere and going home the next day. This is like an adventure, you can go there for three days and hang out and watch all these bands and DJs and have a drink 'til four in the morning, if you want.
I've been known to do that.
[laughs] Me too!
One of the wonderful things that separates ATP from other festivals is the lack of corporate sponsorship. But you're British, I'm American, we're representatives of two of the biggest hegemonic societies of the last few centuries. We generally like our domination, our branding. Why do you resist?
I just find that when you get branding sponsorship involved, you get all these douchebags in tracksuits — you get people that have nothing to do with the festival or have no clue about music trying to dictate who you present and what you present. The whole thing about ATP is I'm making a mix tape — we pick some of the bands and then we have a guest curator and we're not willing to compromise the music just because some company feels that it doesn't fit in with their company ethics or whatever it is. Everyone says, "oh why don't you do it 'cause you'll make loads of money," but we just we just want to be an alternative to everything else and I think every festival is gets ruined by sponsorship. Look at what happened to Lollapalooza. That was a cool thing in the '90s and now it just seems to be like a huge Wal-Mart by a lake, and seems to be getting progressively worse.
You're right, it's horrible. It's like a shadow over everything at best and at worst, it just sucks all the life out of an original event.
Yeah, exactly, and it's all about money. That's what it all comes down to. The thing of it is the early editions of Lollapalooza were an influence us. But like a lot of things, Lollapalooza got to the point or a certain age and it's time to kind of tell her off. [laughs]. We're fortunate after 10 years we still remain true to the concept that we don't need sponsorship. We just want to work on presenting good music.
By one count, you're already kind of a large organization yourself –there are worldwide festivals now, a record label, and even a toy company. Is there a danger in growing too successful or can you balance these endeavors with keeping it real?
I run the festival with my wife Deborah and the record label and the toy company, as you said. Maybe we're control freaks because we like to be involved with everything. We'd like to try and recreate the New York festival and the Australian one like the English one and we'll be there hands on deck and trying to keep it as a bespoke thing. We're not trying to franchise it out and just get someone else to run it because that, I think, is where we'll lose the integrity of what the festival's become kind of renowned for, really. There are a lot of events that we do, but we're involved in them all.
Additionally, there is an increasingly noticeable film component to the festival this year, with Criterion presenting film programs in New York and Jim Jarmusch in attendance.
Yeah, that's fantastic. It's actually Deborah that came up with the idea of bringing Criterion on board and I think it's a perfect match for us because just like the way they handle the films and the catalog they have, again, I think it's definitely quality over quantity. And all the films that they're going to be screening are things that we, as ATP, are the films that we would want to watch. And that was the whole thing of setting the festival up when we started. We wanted to present things that we'd actually like to go to, whether it's films we'd like to see or bands we'd like to like to go and check out.