It takes a village to release a Zac Efron movie.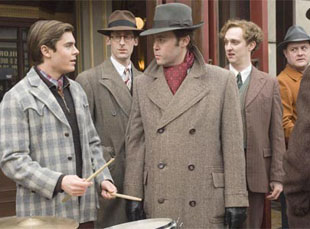 Posted by Vadim Rizov on
Richard Linklater's "Me And Orson Welles" — which has been kicking around for a year since its premiere at Toronto 2008 — finally has a distribution deal in place, and it's a doozy. The company that funded it — Cinemanx, based on the Isle of Man — has partnered with no less than four others to put the film out. Cinetic Media is managing sales, Freestyle Releasing will handle theatrical, Pandemic Marketing will tackle the (duh) marketing, and Warner Bros. will put out the DVD. Phew.
Obviously, this is not how things are usually done. And on the surface, it's strange that a movie starring Zac Efron (who got respectable results for "17 Again" earlier this year, proving his "High School Musical" fanbase is willing to migrate) should have such a hard time getting play. Presumably distributors figured that a period '30s drama about an irrelevant dead guy would prove a step too far for tween girls questing for an Efron fix. Of course, there's always the spin: This is not a weird, tenuous ad hoc deal; it's an trailblazing new path in film distribution!
Per Cinemanx chairman Steve Christian: "We've developed what we believe is an exciting road map for distributing this film, one we hope will pave the way for many others to come." A nice enough way of putting a good face on what could conceivably be called "bravery due to lack of options." Cinetic's become a powerhouse for unorthodox marketing strategies (see this New York Times article on how they got the unsellable "Push," aka "Precious," sold), and I certainly could see them doing something like this again. But is splitting the cost really the least risky way to market uncertain fare? Or is this just a one-shot way to deal with an asking price that was presumably too high for any one company in these uncertain times?
Either way, "Me and Orson Welles" will hit U.S. theaters November 25. And props to Variety reporter Dave McNary for casually working into the middle of a sentence the intriguing if totally irrelevant factoid that Christian is "descended from 'Mutiny on the Bounty' mutineer Fletcher Christian."
[Photo: "Me and Orson Welles," Cinemanx, 2008]