Sites Specific: Can Streaming Save Indie Film?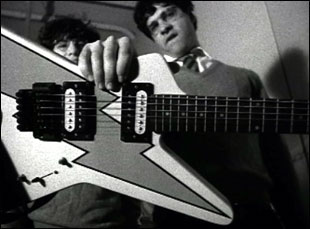 Posted by Anthony Kaufman on
The way we watch movies is changing. And no one knows how, in the not so distant future, cinema's going to be consumed — especially those independent and art films that are increasingly unloved by the Hollywood distribution system. Multiplexes may not be the place for defiantly indie cinema, but are iPods, Xboxes, laptops and flat-screens their next best hope?
There are entrepreneurs who are betting on it, which has led to the recent spread of web sites dedicated to putting harder to find films online, from the documentary-centric SnagFilms to the highfalutin internet cinematheque The Auteurs. If there's one thing that these sites share in today's tough economic climate, it's a boldness to try something new when most businesses are scaling back — that, and the fact that they all have founders who are filthy rich.
For the record: SnagFilms' Ted Leonsis is a former key executive at AOL and a majority owner in NHL's Washington Capitals; The Auteurs' Efe Cakarel is a Turkish entrepreneur and former Goldman Sachs investment banker who helped orchestrate the $17 billion merger of the Zurich Financial Services; and Babelgum founder Silvio Scaglia was recently ranked #962 on Forbes' list of the World's Billionaires 2008. Cineastes can rejoice in the fact that multi-millionaires also share their love of film.
But are a handful of deep-pocketed backers enough to make independent films thrive online? At this point, it's hard to say. But by all accounts, at least one heavily capitalized site, Jaman.com — founded in 2006 as a viewing portal for independent and world cinema, with a significant emphasis on Bollywood movies — is losing steam and may not survive in its current form.
The central problem for lovers of indie film and the people who make it their business to show those films, whether in theaters or in the newfangled Web, is that the population that drives the business is ultimately a small one. Why is Hulu the most popular kid in school, and Jaman that nice, hard-working student that nobody remembers? Because Hulu has "Saturday Night Live," "National Lampoon's Spring Break" and "Family Guy," while Jaman has "Chokher Bali," "A Monk's Awakening" and a low-budget T&A pic called "Pool Party" among its most popular titles. Netflix is one of the rare companies that has helped to cultivate a taste for indie films, but its primary business is still the delivery of old-fashioned DVDs.
Indie-focused sites have a much harder time of making a dent in a slowly developing marketplace. As Efe Cakarel admits, "The truth is that there are not enough people paying to watch films online at the moment." But he has hope. "We believe that by focusing on quality films that are hard to find on other online platforms we can build our brand, and when the online VOD market takes off, we will be a leading platform for foreign, independent and classic films."
The problem is waiting for that day to come. Though The Auteurs has made some high-profile partnerships recently — art-cinema juggernaut The Criterion Collection took an equity stake in the outfit and Martin Scorsese's World Cinema Foundation is lending them select films — current traffic to the site is paltry. It's still in its nascent stages, but the top-viewed films (South Korean director Kim Ki-young's 1960 melodrama "The Housemaid," Turkish auteur Metin Erksan's 1964 film "Dry Summer" and Michelangelo Antonioni's modernist classic "L'avventura"), all available for free, have been watched, collectively, fewer times than this YouTube video of a golden retriever jumping up to bite a dangling udon noodle. "The numbers," says Cakarel, "are not an indication of the scale nor the opportunity of what we are trying to achieve."
Really, how much can be achieved on an indie level?
Matt Dentler, head of programming for Cinetic Rights Management, which provides film sales representation for digital media, argues that digital distribution isn't a "one size fits all" model: "A film has to speak to the demographic that wants to stream." In other words, the audience that's keen on seeing "L'avventura" may not really be the same one that wants to watch that movie on their computer.
According to Dentler, films that work online are older indies that already have established a name for themselves, such as Richard Linklater's debut "Slacker," or a documentary like "We Are Wizards," about "Harry Potter" fandom, which has a built-in mass of interested viewers online. As he puts it, "You need the film to stand out and be attractive on its merits. People aren't deciding what they want to watch online based on reviews. It's about the synopsis; it's about what sounds like a good time right now."
A lack of name recognition, for instance, will always plague the offers at a site like IndiePix Films, which is both a regular DVD retailer and also hosts micro-budget indies for downloading, like regional festival favorites "Audience of One" and "Toots." Owned and run by Bob Alexander, a market analysis veteran and a member of the board of directors for the Alliance Capital Management Technology Fund, among others, IndiePix currently doesn't stream its films, but Alexander knows streaming is the company's next logical step and vital to their success in providing different price points for consumers: say, a DVD download for $14.95 or a streaming rental for $3.99.
Though Alexander claims there's been a steady rise in the market — 15-20 percent quarter-to-quarter growth in the last year — the number of sales for individual films on the four-year-old site remains tiny, on the order of 1,000 DVD units for the top seller. Another online indie retailer and buzz builder B-Side, by comparison, may sell over 20,000 units of a particular title, while established DVD documentary company New Video sells over 10,000 units. Many outsider observers suggest that IndiePix's days are numbered, but Alexander is confident that his company will be, for the first time in its history, in the black by the end of the year.