Star Trek II: The Wrath of the Allegory.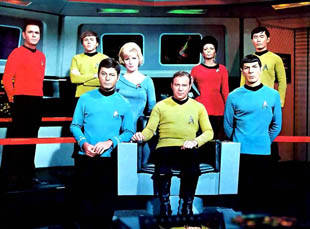 Posted by Vadim Rizov on
As someone who dug the way this year's "Star Trek" reboot dug up memories from a few years of a wasted youth (let's not talk about it), I'm none too thrilled at this piece in the LA Times that suggests that for the sequel, J.J. Abrams & co. are considering adding topical political allegory.
Co-writer Robert Orci says that in post-release interviews with "the fans," a phrase that came up a lot was "Make sure the next one deals with modern-day issues." Boucher inquired if that meant "Starfleet grappling with the ethics of torture or dealing with a rising terrorist threat or perhaps a painful, politicized war with the Klingons." Orci: "Well yeah, those are the kind of issues we're talking about. Wow, you're good!"
Um, not necessarily. Boucher just knows exactly what kind of "issues" Hollywood feels comfortable shoving into a blockbuster — ones that are at least two years old and for which there's an easy position to fall back on.
To be sure, Gene Roddenberry's intentions for the original show were unbelievably grandiose. The crew was multi-racial and male-female to demonstrate the end of racism and sexism in the future. The Vulcan race was there to show us how to end our violent instincts and cultivate peace. The futuristic setting let Roddenberry, in his own words, "make statements about sex, religion, Vietnam, politics, and intercontinental missiles." And none of these were the reason it became a cult hit and eventual occasional commercial juggernaut. That happened because the show was so detailed and meticulous about creating its own universe (literally) in a way people didn't get much on '60s and '70s TV. It's no wonder that J.J. "Lost" Abrams dug its potential for a multi-faceted landscape to be explored in detail.
What the new "Star Trek" did so nicely was ignore all the idealist garbage and concentrate on the basics: characters with hard-earned, long-forged camaraderie battling through a hostile, surprising universe. "Star Trek" can stand next to "Spider-Man 2" as a rare example of intelligently crafted blockbuster life in the 21st century. So why, pray tell, ship the Klingons off to the camps or make them Islamic extremists? Summer blockbusters don't do subtlety well, which means that any allegory about the present global climate rendered in "Star Trek" terms will be clunky and leaden and will just slow stuff down.
The "Trek" fanbase will always believe there's no more sophisticated way to address geopolitical problems than via prosthetics, green make-up and didactic speeches, but everyone else will throw their hands up, and rightfully so. Orci and Abrams? You did good. Now please don't do this.
[Photo: Classic "Trek," Paramount, 1966]