Spike Jonze, Jason Reitman and the fearsome third.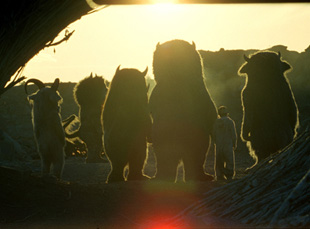 Posted by Vadim Rizov on
There's two good profiles published in the last few days about polar opposite Great White Hopes of Hollywood film. The New York Times profiles Spike Jonze in anticipation of his adaptation of Maurice Sendak's "Where The Wild Things Are"; Anthony Breznican tackles Jason Reitman for USA Today in advance of "Up In The Air"'s premiere in Toronto. As befits the man, the Reitman profile is competent and occasionally absorbing, but basically pedestrian; Saki Knafo's take on Jonze is a great piece — if you think Jonze is a major American auteur, it'll be the major piece to refer to in the years until someone writes a full biography (Sharon Waxman's "Rebels on the Backlot" devoted a few chapters to the former Adam Spiegel); if he turns out to be a flash in the pan, this'll be the peak of his career. Both profiles arrive on the eve of potentially make-or-break third films for each.
Jonze is only eight years older than Reitman, but there's an era separating them. Jonze was part of the late '90s group of directors that was supposed to invade Hollywood and change it, '70s style. This didn't precisely come true: Wes Anderson's set up a niche for himself, P.T. Anderson works sporadically, Alexander Payne ditched the satire he was best at for soggy humanism. Knafo's story paints Jonze as this idiot savant capable of dazzling technical wizardly because of his man-child existence; it's a beguiling portrait, if a little condescending. Besides putting a fine point on Jonze being the guy who gave the world easily graspable versions of Charlie Kaufman scripts, Knafo treats Jonze with the same level of fascinating incomprehension most people lavish on David Lynch.
Though Reitman has cited all those '90s directors as influences, the profile on the "Thank You for Smoking" director is a good deal more straightforward: he is extravagantly praised for working perfectly within the mid-budget "indie" genre, he explains the personal resonance "Up In The Air" has for him, and that's that. He comes off as a much more stable choice of director than Jonze, whose problems with getting "Where The Wild Things Are" made are well-chronicled by Knafo: Jonze almost got fired, and no one will talk precisely about what made Warner Bros' finally take an $80 million gamble on a movie that the author compares to Cassavetes and predicts might alienate audiences wildly.
However, whatever the result, Jonze is poised to be a full-blown auteur after this, finally making it clear what he himself stands for — something, I'm guessing, considerably more optimistic and less arch than his collaborations with Kaufman suggest. Kaufman gave him structure; on his own, precisely what does he care about besides skateboarding and technical challenges? Like Lynch, can Jonze deliver surrealism and deep emotions via naivete? We'll see.
[Photo: "Where the Wild Things Are," Warner Bros., 2009]