The Sketchy History of Sketch Comedy Movies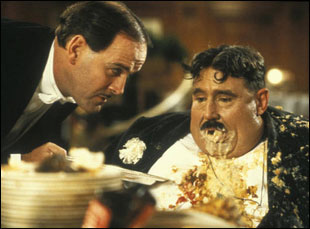 Posted by Aaron Hillis on
Monty Python's 1983 film "The Meaning of Life" effortlessly set the gold standard in sketch comedy movies — which, for clarification, we'll define here as feature-length anthologies of stand-alone comic bits that don't serve to push along any overarching storyline. But while the Pythons' greatest film (gauntlet thrown down!) omitted a plot, their skits were still tied together by the most timeless of through lines: the trials of human life, presented in chapters like "The Miracle of Birth," "Middle Age" and "Death." Furthermore, 1971's "And Now For Something Completely Different," a re-filmed compilation of greatest hits from the first two pioneering seasons of "Monty Python's Flying Circus," is arguably the silver medalist of its kind, and good luck coming up with a third film that actually deserves the bronze.
The cold, hard truth is that sketch comedy movies are nearly impossible to pull off, and most are doomed to fail the test of time. Even with noteworthy players, such stuck-in-their-moment forgettables as 1976's "Tunnel Vision" (featuring John Candy, a pre-senatorial Al Franken and Ron Silver's screen debut), 1977's "American Raspberry" (with Harry Shearer, Warren Oates and Kinky Friedman) and 1980's "Loose Shoes" (Bill Murray, Buddy Hackett, and, strangely, Kinky Friedman again) are irrelevant to 2009 society's collective funny bone. Since snack-sized portions don't allow for deeply developed characterizations, sketch comedy's weapon of choice is usually pop-cultural satire — which, at its most trenchant, shoves its whoopee cushion right up under the zeitgeist's ass.
However, this only works in the present tense, since cultural trends move to the fickle rhythms of American taste. "Tunnel Vision" and "American Raspberry" spoofed their era's TV programming (as did the more significant, if equally outmoded and tamely scatological "The Groove Tube," which introduced audiences to Chevy Chase in '74), and "Loose Shoes" played off movie trailers that have since evolved dramatically.
1977's "The Kentucky Fried Movie" (directed by John Landis, and written by the trio behind "Airplane!" and "The Naked Gun") and its 1987 quasi-sequel "Amazon Women on the Moon" fare better, if only because their jokes about lowbrow multiplex product and '50s sci-fi camp were eccentric and occasionally clever enough to earn nostalgic followings. Even if they were prescient (and they weren't), the absurdities of genre conventions are hardly a dangerous or evergreen topic.
But are their failings really about banal thematic fodder? Hands down, what's still the most esoteric American sketch comedy movie to date is "Mr. Mike's Mondo Video," the late Michael O'Donoghue's bizarre, low-budget 1979 send-up of sensational shockumentaries like "Mondo Cane." Originally set to be broken up as a series of "Saturday Night Live" video segments, the studio execs dismissed it as too racy, but even as a feature, it's more of a cult curiosity than a rewatchable gut-buster. And if sex sold as often as the commercial chestnut dictated, it wouldn't matter that such naughtily suggestive, skin-baring '70s sketch comedies like "The Boob Tube," "If You Don't Stop It… You'll Go Blind!!!", "Can I Do It 'Till I Need Glasses?" and schlockmeister Herschell Gordon Lewis' little-known perversion "Miss Nymphet's Zap-In" were all painfully unfunny, too.
Since, technically, Woody Allen's "Everything You Wanted to Know About Sex* (*but were afraid to ask)" proves an exception to the rule (though it is a rare breed: an adaptation of a non-fiction book), perhaps we should be discussing the genre's largely unchanged form. It's easy to dismiss any omnibus film as inconsistent by its very nature, especially when there are multiple creative collaborators to spoil the proverbial broth. But when it comes to sketch comedy — whose roots expand from American vaudeville, British music hall and the improv scene made popular by such troupes as Second City and the Groundlings — it really comes down to whether it makes us laugh or not, right?
Not quite. As even a well-regarded "SNL" classic illustrates, there's frontloaded A-material and there's plenty of crap sketches that run in the final minutes after the Nielsen ratings have been safely recorded. Extended to a feature format, sketch comedy has only one "episode" to nail it and a lot more screen time to fill. Even if we all had mutually agreeable tastes and senses of humor, it's their patchwork structure that interrupts the momentum of what can keep us enthralled for an hour-and-a-half at a time.
Segues between skits are often perfunctory (David Wain's 2007 "The Ten," based on the Ten Commandments, comes to a dead halt whenever Paul Rudd addresses the camera between scenes), and when there's little to build upon with the start-and-stop of each new sketch, these movies are only as good as their worst bits. We're not far past 2008's "The Onion Movie," probably the most recent comic anthology of this very rigid configuration, and even with its modern takes on race, politics and corporate tyranny, it's still as toe-curlingly awful as its long-buried ancestors.
[Photo: "The Onion Movie," 20th Century Fox, 2008]