Censorship trouble in Indonesia.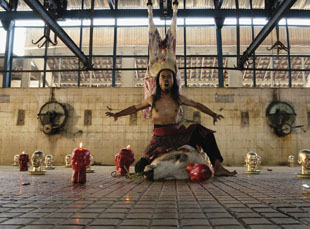 Posted by Vadim Rizov on
China's notorious for letting in only 20 carefully chosen and often edited foreign films each year (though recent WTO rulings might change that) and requiring all domestic ones to pass through vigorous government approvals. But Indonesia might be giving the PRC a run for its money with its new "Law on Film," which combines a quota with strict censorship.
As Katie Hamann at Radio Australia reports, the law mandates that 60% of the screenings in cinemas in the world's fourth largest country have to be of local films. Since, according to the AP, only 87 were produced last year, that may make Indonesia the most friendly theatrical distribution environment around for small productions.
Well, except for the censorship. Before a film can even start production now, an outline has to be submitted to the Ministry of Culture and Tourism, who will decide if it meets the "unspecified limits on the representation of drug use, pornography and other provocations." "It is appropriate that films be made without tainting religious values and this will prevent film makers from losing money if they make a film that will be rejected by censors," explains tourism and culture minister Jero Wecik — which is one way to put a sunny face on things.
Indonesia, the largest Muslim country in the world, already censored political and sexual content in film, but critics are calling the new law a return to the repressive military dictatorship days. As producer Chand Parwez Servia tells the Jakarta Globe, "With rules that are set to control both the creative thinkers and businesspeople of the film world, this is the kind of bill that can only be found in socialist and fascist countries."
Indonesia's film industry has a history of turmoil — in the '90s, unable to compete with imports, the number of domestic features shrank to a mere 37 in 1993. Jero tells the Globe that the new ruling's really meant to help: "There will be more films, and Indonesia will finally become the host of its own home." That remains to be seen.
[Photo: "Opera Jawa," one of the few recent Indonesian films to make a splash internationally, Global Film Initiative, 2006]