Rage (Against the Mobile Device)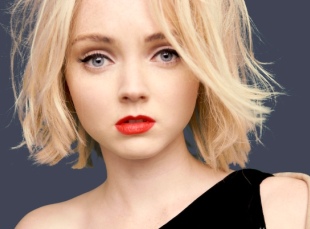 Posted by Brandon Kim on
Call me a Luddite, but I am opposed to the idea of watching a film on a cell phone. Not only is Sally Potter's ("Orlando," "The Man Who Cried,") new film "Rage" being made for release on mobile devices, it's premiering on them before a theatrical release. The release on September 21st will take place in seven parts, one each day through web/mobile application, Babelgum.
(Lily Cole as Lettuce Leaf in "Rage.")
The episodic release seems to add further insult, but the film does not have a conventional narrative structure, or even any real locations. Instead, the story is told through a series of individual performances shot on green screen, in the guise of one on one interviews. Something about being behind-the-scenes at a New York fashion show when an incident on the catwalk turns into a murder investigation spanning seven days. Spellbinding I'm sure, but it doesn't wet my whistle given the format. At least it lends itself to this "revolutionary" multi-platform release. If the artist intends on her work being viewed this way, in pieces on tiny screens, then at least it's got that going for it. Does that excuse it for you?
The good news is that "Rage" stars Judi Dench, Jude Law (as a woman), John Leguizamo, Dianne Wiest, Steve Buscemi, Eddie Izzard, Lily Cole, Simon Abkarian, Patrick J. Adams, Riz Ahmed, Adriana Barraza, Jakob Cedergren David Oyelowo, and Bob Balaban. There's a lot of names in there I like a great deal and wouldn't mind watching their solo performances. Does that excuse it for me?
There was a bit I read in releases that really got to me: "The film consists entirely of a dynamic series of interviews, as if shot by a schoolboy on his mobile phone." Really? If I wanted to watch a something shot by a "schoolboy" on his phone, I'd watch this. Have we dumbed down our content so much already that we've moved on to our technique? I really hope we move past this youtube standard. This is like a feature vlog, no?
Potter directed and scored film with long time collaborator Fred Frith ("Before Sunrise") who has composed or contributed to the scores of several of her films in the past. Maybe the talented Potter will be remembered for this pioneering effort, but it reeks of gimmickry to me. Still, I'm looking forward to watching Dame Judi Dench fire up what looks to be either a wonder joint or one hell of a Gauloises. Balaban is always a good time, obvs.