Polaris prize winner Fucked Up (and your guide to Canadian indie)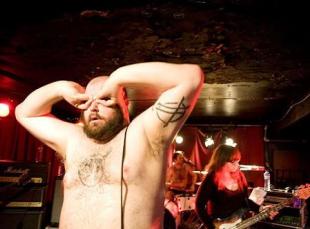 Posted by Brandon Kim on
The fourth annual Polaris prize was just awarded at a Masonic Temple in Toronto, Canada. It's a good prize, chosen by a jury of journalists, bloggers, broadcasters and others involved in the Canadian music world, but no one with "a direct financial relationship to the music or its creators is allowed." It's a by the people, for the people kind of operation. Nominees are chosen on their quality as an artist, not their sales record or industry connections. There is no submission process or entry fee so anyone can submit.
(Damian Abraham aka Pink Eyes and Fucked Up)
This year's winner was the band Fucked Up for the album, The Chemistry Of Common Life. You've probably heard them or at least read of them by now, regardless of their largely unprintable name. Lead singer, Damian Abraham, has gained some notoriety outside of their hardcore music for some political involvement – he has become an occasional guest on Fox News, most notably defending the honor of Canadian armed forces on a late night Fox show. His interview with Q TV's Jian Ghomeshi who had the actor vs musician tete-a-tete with Billy Bob Thornton (which I refer to as the gravy debacle) tells you all you need to know about that.
Check out the Polaris nominees, there's a lot of good stuff in there. Here's the top 10 in alphabetical order with some helpful links:
Elliott BROOD – Mountain Meadows
(Toronto, ON)
Fucked Up – The Chemistry Of Common Life
(Toronto, ON)
Great Lake Swimmers – Lost Channels
(Toronto, ON)
Hey Rosetta! – Into Your Lungs (and around in your heart and on through your blood)
(St. John's, NF)
K'NAAN – Troubadour
(Toronto, ON)
Malajube – Labyrinthes
(Montréal, QC)
Metric – Fantasies
(Toronto, ON)
Joel Plaskett – Three
(Halifax, NS)
Chad VanGaalen – Soft Airplane
(Calgary, AB)
Patrick Watson – Wooden Arms
(Montréal, QC)
And if you're really crazy, here's the long list of the top 40.