Phosphorescent, tour dates, video.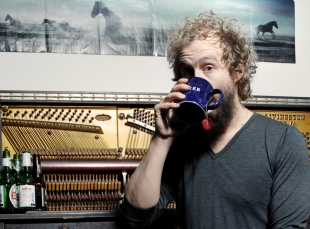 Posted by Brandon Kim on
There was once a place in Brooklyn called Suite Lorraine. It was a sanctuary for great music, kind people, and free delicious baked goods. Like all venues of its kind it was fleeting, and only happened when two genius hosts known as Jeff and Daniel came together. The intimate home made-shows were of course, the best.
One such show featured Matthew Houck, aka Phosphorescent. The pleasant fellow, alone with an acoustic guitar introduced himself, gently quieting the room after a little known group called The Dirty Projectors had played (during which time I think I fell in love three times). There were lots of pretty girls with feathers in their hair nibbling on cookies in that room. And that night, Phosphorescent became part of a forlorn yet joyful group of American folk singers that I envy for their ability to be beautiful in their simplicity, complex in roots and meaning. This was during the Bush presidency and I remember wishing the world could hear Matthew Houck's America over the cacophony. Still do.
Check out this vid of two songs, the first is a cover from his Willie Nelson tribute album, To Willie.

Tour Dates announced!
09/05/09 Brooklyn, NY @ Music Hall of Williamsburg
10/02/09 Chicago, IL @ Beat Kitchen
10/04/09 St. Louis, MO @ Farm Aid, Verizon Wireless Amphitheater
10/05/09 Memphis, TN @ Hi Tone Cafe
10/07/09 Nashville, TN @ Exit In
10/08/09 Birmingham, AL @ Bottletree Cafe
10/09/09 Atlanta, GA @ The Earl
10/11/09 Chapel Hill, NC @ Local 506
10/12/09 Charlotteville, VA @ IS Venue
10/13/09 Washington, DC @ Black Cat
10/14/09 Baltimore, MD @ The Ottobar
10/15/09 Philadelphia, PA @ First Unitarian Church
10/16/09 Providence, RI @ Providence Black Repertory Theater