Peter and Vandy, indie soundtrack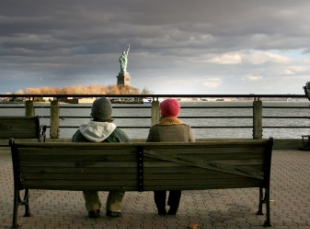 Posted by Brandon Kim on
Playwright Jay DiPietro turned his 2002 stage production "Peter and Vandy" into a film loaded with indie music. The film, his directorial debut, is a love story that tries to answer the common question, "How the hell did we get this way?" through a non-linear telling of all the moments that make up a relationship. Events juxtaposed, disconnected chronologically, but connected in their eventual illumination of the characters.
Jason Ritter and Jess Weixler (Teeth, Alexander The Last) star. Ritter is the son of the late comedic good guy, John Ritter. He last played the most podunk Bush, Jeb, in Oliver Stone's "W."
( Jason Ritter and Jess Weixler in "Peter and Vandy")
Music supe, Stephanie Diaz-Matos licensed a roster of songs that reads like an ipod playlist in the warm pocket of a tween* on the L train headed into Manhattan. New york heavy weights Animal Collective and The National are featured. Remember when that "Fake Empire" song was so movingly employed by the Obama campaign during the election? Remember yesterday's video and that band The Shaky Hands? They're on the soundtrack too. Other bands include Les Savy Fav, Patrick Wolf, Menomena, and Scottish band Frightened Rabbit.
"Peter and Vandy" opens October 9.
*Marketing uses tween to refer to kids aged 10 – 14 or so but that makes little sense to me. I use it more the way Tolkien did, to refer to kids in their twenties (20-30), though he used it specifically to refer to Hobbits.