Patrick Swayze's greatest hits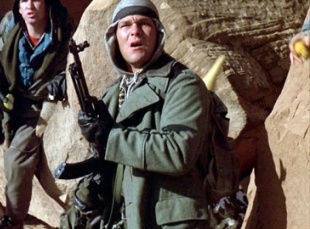 Posted by Brandon Kim on
I probably saw Patrick Swayze on "M*A*S*H" or one of his other early 80's TV appearances, I used to be glued to the cathode ray nipple, but it was definitely "The Outsiders" where I first noticed him. I didn't know then that he would appear in a war movie during the height of Cold War paranoia that would shape my world view for the entirety of the 1980's. Man, all I wanted to do was kill commies. And who could have imagined that such a tough guy would write and sing such gay songs? How beautiful and unpredictable life is!
Let's celebrate, here's Swayze's greatest hits:
1. "Red Dawn." Writer/director John Milius, genius responsible for some of the most memorable lines in film has only directed a handful of films since this this pro-gun, pro-war, anti-communist neo-con film – Hollywood just couldn't handle him. Every boy who saw this picture wanted nothing more than to be Patrick Swayze with Jennifer Grey on one arm, and a warm AK-47 slung over the other.
2. "Dirty Dancing." Swayze's biggest sleeper hit and one of the biggest of all time. I was suckered into seeing this by my Mom of course. My best friend and I, concerned mostly with praying for a real life Red Dawn were mortified to be in the theater. But by the end of the movie, I think maybe I just wanted to be Patrick Swayze with Jennifer Grey on one arm, and a warm tutu slung over the other.
3. "She's Like the Wind" (see embed below). Speaking of "Dirty Dancing." So few actors can do crossover well to music, but regardless of my personal taste, I must confess, Swayze nailed this. He wrote the song originally for the film "Grandview, U.S.A." but it wasn't used. It's currently in the film "(500) Days of Summer."
4. "The Outsiders." Though you may not readily associate Swayze or director Francis Ford Coppola with the term, it is considered the the first Brat Pack movie.
5. "Ghost." The much parodied pottery/"Unchained Melody" scene needs no further attention. I default to Swayze's rendition of "I'm Henry the VIII, I Am."
6. "Donnie Darko." Cunning visions. Love, fear.
7. "Point Break." I think this was an odd career choice after the leading man role in "Ghost," but Swayze's bad guy Bodhi is still memorable. Textbook likable bad guy I'd say.