Mark Ruffalo, Orlando Bloom film scored by Montreal psyche band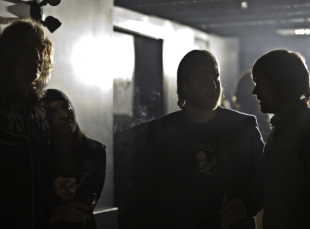 Posted by Brandon Kim on
Actor Mark Ruffalo ("You Can Count on Me," "Eternal Sunshine of the Spotless Mind," "Zodiac") has turned to directing with an intriguing film called "Sympathy for Delicious." The film stars Ruffalo himself, Laura Linney, Juliette Lewis, and Orlando Bloom as a rockstar named The Stain. If that's not strange enough, actor Christopher Thornton wrote the screenplay and plays the role of the paralyzed, DJ Delicious, who "gets more than he bargained for when he seeks out the world of faith healing." Thornton is actually paralyzed in real life.
(The Besnard Lakes. Photo by Chris Gergley)
Canadian rockers, The Besnard Lakes, blew Ruffalo's mind when he was tripping out with the flu one night, after which he sought out their talents. Ruffalo described the film and the score as a "Magic and Agnostic Rock and Roll Revival, and I wanted a score to the film that felt questioning and cinematic. The Besnard Lakes is a perfect match… something rough and not overproduced, not devoid of guts, full of humanity and messy around the edges….They bring a living, breathing and vibrant quality to the existing story that is rare to find in film scores."
Expect the film on the festival circuit and the soundtrack out on jagjaguwar in early 2010.

"Devastation" by The Besnard Lakes off the record, The Besnard Lakes Are The Dark Horse.