Football movies that are not for export.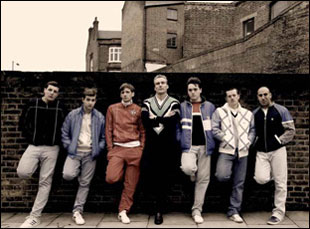 Posted by Vadim Rizov on
Being a holiday and all, it's a slow news day in the States, so let's turn to the U.K. for fodder. In The Times Online, we find an absolutely fascinating profile of Nick Love, a moderately high-profile figure in the U.K. and pretty much absolutely unknown in the U.S. Love is the director of a new remake of Alan Clarke's "The Firm," a really superb and terrifying movie starring Gary Oldman; if you've never seen it, you should make an effort. "The Firm" is probably the only movie about hooliganism on the soccer turf to make a dent in American consciousness. (Well, and that one scene in "Eastern Promises," I guess.) This is mostly due to the aforementioned Oldman performance; in a career of flawless ones, this may be his pièce de résistance. But the culture of football hooliganism mostly remains a global phenomenon absolutely unknown to soccer-indifferent Americans. Elijah Wood attempted to rectify this post-"Lord Of The Rings" by starring in the poorly received Green Street Hooligans." The American public didn't care one way or another.
Love, who is either extremely honest and naïve or more cynical than I can possibly imagine, makes for a good profile subject. He discusses his junkie youth bluntly ("I was a thieving c*** and a junkie"), how the intense friendships of his über-masculine protagonists verge on the homoerotic ("Me, personally, I don't give a f*** any more about boundaries. I love my men friends and we cuddle when we see each other. I'm not gay, just liberated."), and earnestly stresses how much "heart" his movies have ("I've got to keep pushing the heart […] There is a very limited shelf life for films that don't have a beating heart to them."). However, the trailer for his remake looks lousy, and I doubt there's much to be expected from someone nakedly trafficking in "heart" and violence.
Still, I'm intrigued by the reminder of a whole subgenre of movies that are absolutely unmarketable in the U.S. Heck, we have hardly any significant sports movies of our own. Passionate American cinephiles tend to be, for one reason or another, resolutely indifferent toward sports movies; for a nation as sports obsessed as we are, it's kind of remarkable how few movies have addressed either playing or fandom in the last couple of decades. Compare that with the kind of film-and-football fervor the British bring to their movies, like Ken Loach's upcoming "Looking For Eric." Here, it'll open as a specialty item for the kind of person who cares about Ken Loach movies; in the U.K., it was pitched at a mass audience in love with soccer legend Eric Cantona. Which backfired for a populist reason. In the August issue of Sight & Sound, Charles Gant notes that the film "seems to have done particularly badly in cities with strong antipathy to Manchester United," Cantona's former team. Now, imagine an American filmgoer refusing to see "Big Fan" purely because they can't stomach the New York Giants.
Props to Love for making movies that acknowledge a common spectatorship culture American movies can't even begin to approach. We could be having much more fun with sports, really.
[Photo: "The Firm," Vertigo Films, 2009]