Narcocinema: Mexico's drugsploitation genre.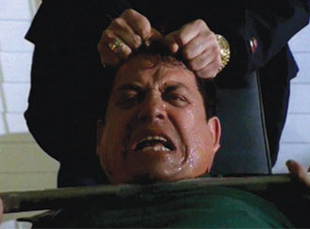 Posted by Vadim Rizov on
I'd never heard of narcocinema until I took a gander through Vice's substantive new film issue. Well, consider me schooled. Narcocinema is just what it sounds like: violent drug war movies shot in a manner that could be kindly dubbed "functional," frequently based on narcocorridos (drug songs). Only 18% of the Mexican population can afford to see movies in theaters, so most narcocinema features are shot digitally or on low-grade video straight for the "videohome" demographic.
The titles are as amazing as the best '70s exploitation: "I Was Screwed By The Gringos," "Weapons, Robbery, and Death" and lots of car-fixated titles ("The Gray Truck," "The Black Hummer," "The White Ram"). Take that, "21 Grams"! Writer Bernardo Loyola talks with two of the genre's biggest stars: Mario Almada, who holds the Guinness World Record for the living actor who's appeared in the most movies (more than 300 shot on 35mm, over 1,000 on video), and Jorge Reynoso.
Almada plays the good guys and Reynoso the drug lords, but they're both basically on the same page: they're super-industrious shapers of their own material. (Reynoso is also manufacturing his own hot sauce, which translates as "Good, Spicy and Delicious, the Flavor of Jorge Reynoso.") Both are distrustful of quality cinema — Almada calls "Y Tu Mama Tambien" "pornography" — and full of effusive praise for drug lords who give back to the community.
This stuff is sold in Walmarts wherever there's a high Mexican population — as Reynoso says, next to the "Mexican food products," so you can pick some up along with "some delicious enchiladas" — and yet has barely dented the English-language press radar at all. Here's a trailer from what seems to be a highly representative Almada film from last year, "Destino de Traficantes," full of indifferent shots inside people's houses, overacting, lots of guns, insistent cocaine shots and, oddly, horse-racing:
[Photo: a still from 2005's "La Hummer Negra, starring Reynoso.]