Michael Moore marches out the door.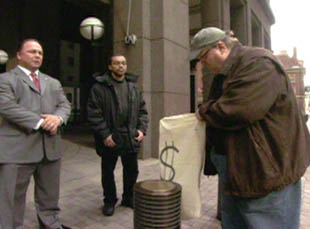 Posted by Vadim Rizov on
Michael Moore may be abandoning documentaries. In an AP interview from Toronto, he complains "I've done this for 20 years. Two years ago, I tried to get the health-care debate going, and it did eventually, and now where are we? We may not even have it. What am I supposed to do at a certain point?"
As usual, Moore's stuck somewhere between good intentions and supreme egotism. On one hand, he makes it sound like his has been a one-man crusade for various righteous liberal causes ignored by everyone else who couldn't be bothered to try as hard. On the one hand… well, he's not far off. For better or worse, Moore's proven the only liberal propagandist with a famous enough persona to go up against the remarkably well-organized conservative commenters of the Fox News nation.
It's easy to forget that though he made his name with 1989's "Roger and Me," Moore's fame arguably crested in the middle of the Clinton years, when after the failure of 1995's "Canadian Bacon" he repositioned himself as as all-round rabble-rouser with the bestseller "Downsize This!" While he's been a crusader for the Democratic party to some extent — "Fahrenheit 9/11" was marketed as a (failed) attempt to sway the election — he's mostly operated as some kind of weird leftist independent. (Recall the memorable bashing Hillary Clinton got in "Sicko" for caving in on health care.)
It's fascinating to see Moore leap back on the health-care beat while banging the drum for "Capitalism: A Love Story," tying in activism and self-promotion so ham-handedly it's hard to tell where one ends and the other begins. Earlier today, President Obama addressed Pittsburgh AFL-CIO union members. Yesterday, Moore led members of these same unions down the streets of downtown Pittsburgh in what Workday Minnesota's Barb Kucera described as an "impromptu march" in favor of a single-payer health care plan. (Precisely how impromptu a demonstration that ended at the theater where marchers saw "Capitalism"'s U.S. premiere is, obviously, open to question.)
The logistics of tying in a labor march and premiere to the appearance of the President of the United States the next day are surely mindboggling, but you have to admire the chutzpah. Like GM, Moore clearly — and with astonishing naïveté and sincerity — believes that what's good for him is good for the nation.
[Photo: "Capitalism: A Love Story," Overture Films, 2009]