Michael Moore Administers "Capitalism" Punishment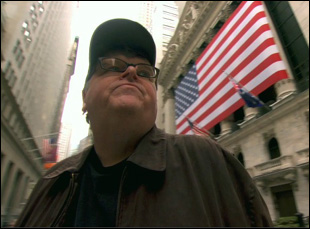 Posted by Aaron Hillis on
It's been 20 years since Oscar-winning filmmaker Michael Moore — then just a regular working-class Joe from Flint, MI — effectively and literally changed the face of documentaries today with his masterful debut, "Roger and Me." Armed with a camera, a microphone and a liberal agenda to confront the greedy capitalist swine responsible for devastating the auto industry workforce in his hometown, Moore went from being the little guy to the most well-known personality in nonfiction cinema today. He entertainingly set his aims on the firearms debate in "Bowling for Columbine," won the Palme d'Or at Cannes for taking George W. Bush to task in "Fahrenheit 9/11" and sought a cure for the horrors of the health care biz in "Sicko."
Though his man-and-bullhorn techniques haven't changed drastically in his latest bit of muckraking, "Capitalism: A Love Story," Moore moved quicker than ever to expose a subject that's hurting every American: the economic crisis. A culmination of his last two decades' worth of work, the film builds on his previous revelations and adds personal backstory to reveal how corporate greed again is responsible for one of the biggest shitstorms in our nation's history. Since Moore has been seen as a controversial figure in our polarized country, I attempted to ask tough but even-handed questions about the efficiency of his activism, letting off President Obama easy, and what some might debate as limitations of his heartfelt new film.
Though capitalist philosophies have been seized and mutated by powerful money grubbers, can there still be good that comes from these ideas to counteract these modern perversions?
I would have maybe said that 30 years ago, but not now. I think the beast is too long out of its cage, and I don't think it can be put back in.
The film is entertaining, heartbreaking and infuriating, but I still left the theater thinking: "What am I supposed to do next?"
Well, one thing is to stop believing what you're being told, that this crisis was caused by a bunch of greedy working-class people who shouldn't have been buying things they couldn't afford. Secondly, don't participate in the system. Don't have credit cards where you're carrying a balance over from month to month and paying outrageous interest rates. Don't put your pension in the stock market, it's way too risky. Things like that.
"Socialism" has been bandied about as an evil word, but I'm curious why you didn't go further to demystify the progressive principles that could perhaps improve this country if we were some sort of capitalist-socialist hybrid?
Countries like Sweden and France, that have these hybrids, they work for them in part because they never let capitalism get too far out of control. They've always had it chained down. They just look at things differently. It's all about the profit motive in those societies. If you lived in the U.K., when you buy your first house, you don't have to have the down payment. The government will provide it, and charge you a very low interest, and you pay it back when you can. But you don't have to have that $40,000 in the bank.
Beyond starting conversations, how effective is cinema in making a difference as an activist?
I always wondered whether any of this was worth it until about eight weeks ago. I got a call from the Bill Moyers show about an hour before their show was going on the air. They told me to turn it on, said I might be interested in it. There sat the former vice president of Cigna, one of the largest health insurance companies in the country, who decided to become a whistleblower on the show, and brought on the documents to show how the health insurance industry privately got together to figure out how to smear me and "Sicko." They decided to spend money to do it, got their lobbyists on board and told them to tell the members of Congress, "Anybody who supports the film or sides with Michael Moore, we will give money to your opponent in the next election."
That's an awful lot of effort over a movie. It is just a movie, right? They were afraid it could be the tipping point. To some extent, they were right. It wasn't the tipping point, but at least I restarted the conversation that cut off 13 years prior with "Hillarycare" when it was defeated. When I saw that, I just thought, "Wow. The cinema can be very dangerous." It can shake things up. I'm more optimistic about that now.
This may be your widest film in scope, but there were some threads that I felt were left dangling, such as the recent Chicago workers strike. Are you calling for more of this? Does it actually work against these fat cat monsters?
Yes, I am suggesting that when they try to shut down your place to work, you refuse to leave. You organize your fellow workers and demand that these jobs be kept. And it's a situation where if the businesses don't have the money to pay, then let the workers run the business. I know that sounds simple and easier said than done, but what if we were sitting here talking three years ago, and I said to you, "We're going to go get an African-American elected as President of the United States." I didn't think I'd see that in my lifetime. I didn't think I'd see the Berlin Wall come down. I didn't think Mandela would ever be out of prison. Crazy, good things happen, sometimes very quickly.