Megan Fox is no Brigitte Bardot.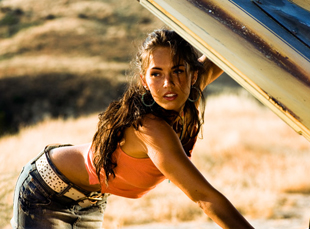 Posted by Vadim Rizov on
Brigitte Bardot, screen goddess, national icon and late-life bigot, is nearing her 75th birthday. As the Guardian notes in an audio slideshow tribute, Charles de Gaulle once compared her importance as a French export to that of Renault cars.
Meanwhile, over at the Los Angeles Times, Chris Lee attempts to name her successor, a starlet on the path to becoming "a sex symbol of the highest order: a woman whose hotness has become emblematic of a specific era. Call Megan Fox the first bona fide sex symbol of the 21st century." Somehow… it's not quite the same.
For one thing, these days the idea of a "sex symbol" seems anachronistic. Fox might be obsessed with Marilyn Monroe, but she's never going to date JFK or redefine blondness. Lee compares her to the late Farrah Fawcett, whose fame peaked with a poster, a kind of one-shot iconography that's no longer an option. And Pamela Anderson, his other parallel, is a genial self-spoofer famous for understanding exactly how to market her outrageous measurements and for having one of the first major celebrity sex tapes.
How can Fox compete with all that? There are no boundaries left to shatter, whatever Fox's debatable merits as a physical specimen/actress/celebrity/provider of quotable copy. A "sex symbol" has to represent something both concrete and boundary-shattering. Fox is basically just the prototypical pretty girl bending over to sell a car in an ad; it's just that the cars are Transformers.
If anything, "Jennifer's Body" writer Diablo Cody — annoying as I find her — is a better candidate for Lee's designation. She's a singular figure, parlaying a career as a stripper (something people used to want to keep quiet) into an eminently mainstream career, trading on her unique sexuality for the kind of publicity that's proven near-impossible for anyone else in her field.
[Photo: Megan Fox in "Transformers: Revenge of the Fallen," Paramount Pictures, 2009]