Keeping the barbarians at bay.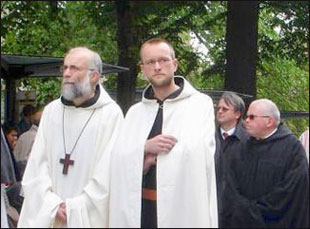 Posted by Vadim Rizov on
Every year someone makes a fuss over how snobbish/exclusionary/whatever the New York Film Festival is; this year's money quote came from Jeffrey Wells, who complained that the festival committee had become "a gathering of Trappist monks who've been slurping too much goat's milk with their granola." (I keep meaning to bring mine to the screenings and forgetting.)
It's nothing new — as Michael Guillen points out in his review of "Film Festival I: The Festival Circuit," a journal dedicated to, yes, film festivals — those annual complaints haven't shifted one bit since the festival's founding in 1963.
Rahul Hamid reports, in one of the journal's essays, that back in 1965, The New Republic's Stanley Kauffmann sniffed that the program descriptions were the product of a "limp mind and wrist," and that festivals were for selling movies, not art, that the good movies would make their way into the world anyway. As time passed, Hamid argues, people forgot that NYFF's intent was pretty much always to be self-consciously elitist, bourgeois and irrelevant — that is, "to give film a place in the cultural establishment of the city." If that meant avoiding any competition or commercial aspects, so be it.
Times have changed; these days, few people would seriously argue that film isn't an art form, with or without $20 ticket prices. In a lot of ways — no matter the nostalgia for the programming slates of ten, 20 or 30 years ago — NYFF's programming agenda has remained consistent as the conversation surrounding it has broadened and changed. The slate would be taken seriously whether it screened in Lincoln Center or in the multiplex a few blocks away. Whatever the context, claims that NYFF has grown more elitist over the years just aren't true: its very nature is to insist on showing great films at their most rigorous and commercially disdainful, in need of the most praise and attention as fast as possible before potentially fading away.
That's, theoretically, the nature of every festival — but many festivals need Hollywood movies, with their attendant cash inflow, to keep going. Either way, the battle is the same one its always been — art vs. commerce, commercial vs. art.
[Photo: Actual Trappist monks in Belgium, courtesy of Wikipedia]