In the Company of "Men" with John Krasinski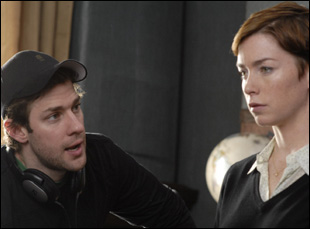 Posted by Aaron Hillis on
John Krasinski never got a chance to meet David Foster Wallace, the brilliant writer who's best known for his epic novel "Infinite Jest," and who took his own life a year ago this month. But when the "Office" star decided to adapt Wallace's 1999 short story collection "Brief Interviews with Hideous Men" into his directorial debut, the two spoke by phone, which is how the actor was given the author's blessing.
Reverential to its insightful and caustically funny source material, the film version of "Brief Interviews" stars Julianne Nicholson as an anthropological doctoral candidate working on an ambitious research project: to uncover the secrets of the repulsive male psyche by interviewing the depraved, the misogynistic and the jerkiest of the jerks. Krasinski himself turns up as one of the subjects (some of whose monologues are dramatized), as do Bobby Cannavale, Dominic Cooper, Will Arnett and Lou Taylor Pucci. Krasinski and I had our own brief interview over why Wallace's book meant so much to him, whether men are just walking hormones, and why he doesn't join his "Office" mate Rainn Wilson on Twitter.
There's such a stigma against actors who direct, so while your role is too small for anyone to criticize this as a vanity project, did you have any trepidation going into it?
100%, yeah. I will fully admit, now that it's done, that this was never intended to be my coming-out party as someone who secretly always wanted to direct. [laughs] Working on this was a unique experience because it was the epitome of a passion project, something I was incredibly connected to. Doing a stage reading of it [while attending Brown University] was the defining moment for me in deciding that I wanted to give acting a shot professionally. Then, working to get the rights, I was so personally invested that directing was just an extension of trying to get this book to a wider audience, and have more people see how incredible this author was. That was it.
What was your connection to such a dark and disturbing book?
The audience of the stage reading was fantastic, and there was a polarizing reaction. Some people really loved it and connected to it, other people needed time to figure out exactly what they did think of it, and that was an incredible compliment for any artist. Not me, but David Foster Wallace. You have to deal with his material. It's not one of those things you can immediately write off as something you love or hate. You have to let it rattle around inside you before you're able to comment on what you saw and felt.
I was only acting for fun, as a way to hang out with my friends. Being in college during that time when you're "finding yourself," to have an author display so clearly not only the desire but the necessity to view the world in a different perspective was incredible. Wallace presents these guys as hideous or self-protecting, and at the end, always insecure. That's hard to find in the beginning, through all the defenses and hardened characters, and then they unravel themselves to show a basic insecurity we all have. It was more of a commentary on human interconnectivity rather than "men vs. women."
Mars and Venus, yadda yadda yadda. Are men just big, stupid walking hormones?
[laughs] In a way, there's truth to that. I'm sure if we did some incredible anthropologic study, we're all just primal beings working out of hormones deep down. But this stems from a larger conversation about the sense of being a protector — during the Victorian era, not being able to show emotion, never being able to be vulnerable if you were the male leader in the family.
These guys are products of different societal issues, and it allows them to be outwardly aggressive until they reveal themselves as just scared and having a problem that they've never gotten over. Whether you believe in it or disagree with it, you have to take it in. The best part of the book and the movie is that, in the end, these guys don't necessarily reveal themselves to be soft and cuddly. You realize how sad and pathetic it is, the façade they put on to the rest of the world to show that they're not weak. They're living in this alternate universe.
Do you have any specific regrets about the way you've handled any relationships or break-ups?
Sure. All relationships are a learning experience, even ones you continue to be in. If you don't see them as that, then that's a problem. You can never perfect a relationship, and you can never perfect yourself to be in a relationship. You're always going to be changing, and you hope it's for the better. So yeah, there are definitely things I regret about relationships. [laughs] There isn't anything worth mentioning that would relate to the book. I've never been someone who dates all that much — I'm more of a serial monogamist. To me, it was all about that idea of romance and what a relationship that would lead to marriage would be. I was protecting an ideal that didn't necessarily exist, and that was constantly changing.