There & Back: Joel Schumacher.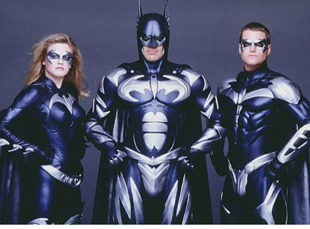 Posted by Vadim Rizov on
For years, Joel Schumacher's name was one to be hissed out with great venom: despite some nostalgic goodwill from '80s kids for "St. Elmo's Fire" and "The Lost Boys," unleashing "Batman and Robin" on the world made him as ripe a target as Michael Bay. But this weekend, his latest film, "Blood Creek," wasn't just dumped; it was dumped to an unspecified number of theaters under a name whose box office results can't even be tracked.
This has to be some kind of new record for fastest fall from grace. Just two years ago, Schumacher was directing Jim Carrey in "The Number 23," a lousy movie, sure, but not a total financial disaster. I'd guess the plan for "Blood Creek" — some kind of gabba about Nazi occult experiments — was for Schumacher to reboot his cred with a little low-budget grit, a stunt he performed before, when he proudly announced that 2000's "Tigerland" was Dogme inspired and that he was done with big-budget, impersonal Hollywood filmmaking. With that bit of penance out of the way, he was free to do movies like 2002's "Bad Company," where Chris Rock and Anthony Hopkins run around blowing stuff up.
Reports are trickling in on where "Blood Creek" is playing — second-run theaters in Dallas, Memphis, Orlando. The best evaluation comes from one "Blue" in El Paso, TX, who writes: "I had never heard of it before and after watching it my friends and I didn't even really know what it was about." When Lionsgate did something similar with last year's "Midnight Meat Train," at least the fanboys got up in arms. Schumacher has earned no such goodwill; the dumping of his movie was not mourned. But he'll be back, I guarantee it; a man who can survive "Batman and Robin" can survive anything.
[Photo: "Batman and Robin," 1997, Warner Bros.]