It's a mad, mad, mad, mad People's Republic.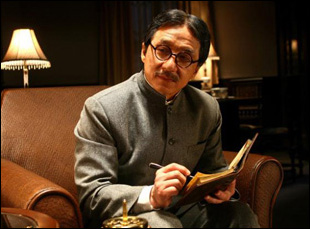 Posted by Vadim Rizov on
Earlier this year, the Chinese government's media authority — the China Film Group — announced plans for 50 movies to commemorate the 60th anniversary of the Chinese Revolution. Worker heroes like "Iron Man Wang," a nation's moment of unity in the face of last year's earthquake in Sichuan Province, and many more cultural touchstones from the last 60 years will receive the motion picture treatment. (I'm particularly keen to see the intriguingly titled "College Entrance Examination of 1977." Maybe it's a wacky college sex comedy.) But the centerpiece is undoubtedly "The Founding Of a Republic," a Chairman Mao biopic focusing on Mao's triumph over Chiang Kai-Shek. Clifford Coonan has an excellent report on the film in The Independent, which reports that the film is entertaining and wisely averse to any mentions of the Cultural Revolution. He picks apart the film's potential political hints — it gestures towards an official ideological reconciliation with capitalist business practices, rather than the unofficial adoption it's had in China — and generally provides way more context than I have the background for. (He also classifies "Independence Day" as the same kind of propaganda movie as "Triumph of the Will." Ouch/awesome.)
Coonan notes that in some parts, "There are lots of policy debates and unadorned party politics, which makes for clunky viewing as characters outline the formation of endless committees." This raises the rather intriguing prospect of a kind of state-sponsored film along the lines of Soderbergh's "Che." The trailer (see below), though, makes it fairly clear that the film is determined not to leave anyone in the cheap seats unsatisfied: there's enough CGI trickery and epic spectacle to, in all likelihood, entertain just about anyone.
China's taking steps to make sure the film succeeds. In the kind of stunt casting that was used in 1956's "Around The World In 80 Days" and 1963's "It's a Mad, Mad, Mad, Mad World," the movie is loaded from top to bottom with stars in cameos that range from a few minutes to a single glance. "The Founding of a Republic" has nearly 200 such participants, including people even famous in the U.S. (Jackie Chan, Zhang Ziyi, Jet Li). It's hard to imagine any such method working a contemporary American movie: in a culture so fragmented that people can't stop writing think pieces about it, could we scrounge up even 100 leading stars everyone in the audience would recognize? I think not. (All of the comedians always appear in each others' movies anyway at this point.)
Better yet, as Coonan (an all-around Chinese film reporter, it seems) reported in Variety, the government's giving out discounted tickets from Sept. 1-20 to anyone watching a domestic film in Beijing to encourage watching home-grown propaganda. And — since the media apparatus and the government are one and the same — making sure there aren't other attractions that could suck away people's attention and hurt the film's financial prospects isn't an option. The movie opens September 17, and October 1-8 will be a national holiday, with the government combining the traditional Mid-Autumn Festival and the self-explanatory National Day into an eight-day block — thereby presumably sending everyone into theaters. This is kind of genius. Coonan notes that the film seems poised to do well where most Chinese propaganda films are avoided by the masses; with that much effort put into it, you'd hope so.
The trailer's below; it looks better than "Pearl Harbor" anyway:
[Photo: Jackie Chan, "The Founding of a Republic," China Film Group, 2009]