Iranian filmmakers keep the heat on.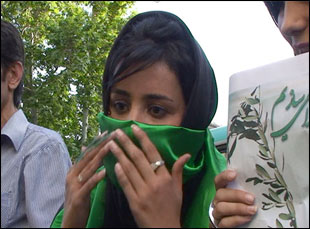 Posted by Vadim Rizov on
At the San Sebastian Film Festival yesterday, filmmakers Hana and Samira Makhmalbaf (of "Green Days") led a protest against Iranian president Mahmoud Ahmadinejad's presence at the UN Council. It was the latest salvo by Iranian filmmakers against their current government, and it could go on as long as there are festivals where Iranian filmmakers are in attendance, just as Jafar Panahi and his Montreal World Film Festival jury wore long green scarves earlier this year.
Earlier this summer, as protesters took to the streets to contest the quite-probably-rigged re-election of Ahmadinejad, there was a lot of excited talk of how Twitter could change the world. Users were encouraged to change their avatars green in solidarity, repost links of video footage and get the word out as the Iranian government tried to clamp down on international coverage of bloody protests and repression. But when change and revolution didn't come within the next two weeks, the media story basically died. So it's up to filmmakers, amongst others, to keep making headlines.
Such seemingly small displays carry much more potential resonance than, say, the American equivalent of wearing a bracelet or ribbon to show that you care. Panahi is traveling the world unmolested for now, but he was arrested and released in the same day in July — the government claimed it was a "mistake." Hana and Samira are the daughters of Mohsen Makhmalbaf, whose website went down as soon as he started posting news and statements from the opposition; it's back up now, its latest English-language post a statement on behalf of the "Green Movement," with strong statements against "the current coup-empowered illegitimate government."
How long Panahi, the Makhmalbafs and everyone else can get away with these small protests is impossible to guess. Smaller filmmakers aren't nearly so lucky. Talking with underground filmmaker Moslem Mansouri earlier this month, Sayeh Hassan at the Iranian reported on far more obscure filmmakers who weren't so lucky — like Mona Mollahkhani, arrested four years ago while making a film about suicide and "self-burning" and unheard from since. That article even cast doubt on the bona fides of Bahman Ghobadi, which is a bit harsh considering he was thrown into jail for a week when he visited Iran from his de facto Berlin base and that his girlfriend, journalist Roxana Saberi, spent a little over a month in jail on seemingly spurious charges as well.
While Western reporting on Iran has definitely slowed, the Iranian government is still none too pleased with the festival situation. Last week, Ahmadinejad's art advisor Javad Shamaqdari threatened a boycott of festivals by "Iranian artists" if protests continued. "The enemy, which has been disappointed concerning their plans for a velvet coup and a soft war in Iran, tries to keep up the fever of their subversive activities at foreign art and cinematic events," he announced. "The Venice film festival was a vulgar display revealing the enemy's plan." Unclear in the statement is who these Iranian artists might be — state-sanctioned or otherwise — and whether their boycott would be voluntary or forced. Keep an eye on the global festivals this fall: as odd as it is, they're maybe the best site to see the ongoing evolution of Iranian protests in action.
[Photo: "Green Days," Hana Makhmalbaf's new film about the protests, 2009, Makhmalbaf Film House]