Intimate Enemies, Alexandre Desplat, Florent Siri.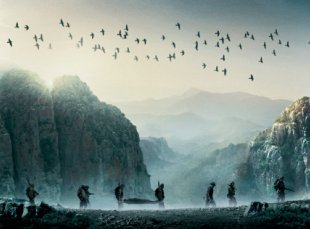 Posted by Brandon Kim on
I was a bit salty when I discovered that the working title I'd been using for a story had been taken already by director Florent Siri, but this French film, "Intimate Enemies" is not about my ex-girlfriend. Instead it is concerned with Algeria's fight for Independence. A kind of French "Platoon."
Like Vietnam, France's war with Algeria is national baggage that is a never ending source of grief, reconciliation, and introspective war films. Check out "The Battle of Algiers" and "Indigenes" (foolishly retitled "Days of Glory" for it's '07 US release) for more on this dark chapter of history. Man, those French have a lot to work through.
War films are so easily ruined by relentless patriotic scores, but they are also such an opportunity for intense compositions of the right emotional magnitude. I find it easy to obsess over them, though all too often in an unsatisfied way. Alexandre Desplat who's most recent film is "Julie & Julia" composes here. That seems a very strange turn, but remember this is a foreign film and is already 2 years old. In between he's scored "The Golden Compass," and "The Curious Case of Benjamin Button." Desplat also scored "Girl with a Pearl Earring" among over 100 other films.
The director, Florent Siri is interesting because he directed the hit video game "Tom Clancy's Splinter Cell," a crossroads of another kind. "Intimate Enemies" (aka "L'ennemi intime") opens to limited release October 2nd in the US.
The UK trailer: