Hugo Chávez's "Repo Man" sequel.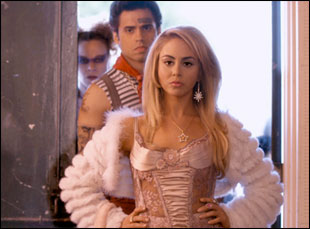 Posted by Vadim Rizov on
I'm among those who was intrigued by the prospect of "Repo Chick," Alex Cox's sorta-sequel to his 1984 cult favorite "Repo Man." The film premiered last night at Venice, and alas, Leslie Felperin's Variety review is in and not so hot.
Felperin deems the film a patchy, occasionally amusing mess, "what you would get if Michael Moore directed an episode of Nick Jr. kiddie series 'Lazy Town,' " though halfway through it does turn into a mock thriller. "The terrorists' ultimate demands," she summarizes with an admirably straight face, "are for the President of the United States to close all golf courses (providing the opportunity for a ranting message against the wastefulness of golf), ban the sport entirely and also make the entire government go vegan."
The premise seems wacky enough — except that it's basically already happening. A month ago, Venezuelan president Hugo Chávez declared war on the game. As the New York Times' Simon Romero reported, Chávez isn't a fan of this "bourgeois sport," and would like to shut down at least three golf courses to build some public housing. "I respect all sports," he announced. "But there are sports and there are sports. Do you mean to tell me this is a people's sport? It is not."
So forget that Oliver Stone doc on Chávez, because clearly Alex Cox is dramatizing Chávez's policies in real time. Now that's impressive.
[Photo: "Repo Chick," Paper Street Films, 2009]