Five Rules for Great DVD Commentaries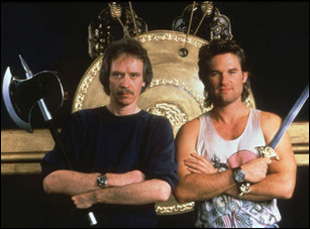 Posted by Matt Singer on
Whenever someone asks me what my favorite DVD special feature is, I always pick audio commentary. But from talking with other cinephiles and casual film fans alike, I've begun to feel like I'm in the minority. I hear the same complaints, over and over, about filmmaker tracks: they're boring, they're uninformative, and so on. To which I always reply, you don't like them because you're not listening to the right ones.
There are plenty of bad commentary tracks out there, but there are plenty of bad movies out there too; the trick is to find the good ones. From my highly subjective perspective, here are the rules that govern all great DVD commentary tracks.
1. Don't Just Tell Us What's Happening on the Screen
Just about the worst thing you can do on a commentary track is simply reiterate what the audience is seeing. Thankfully, it's not an especially common phenomenon nowadays, but it was painfully so back in the earliest days of commentaries, when they were still primarily done for laserdiscs. Eventually, filmmakers realized there wasn't much margin in redundancy: who needs to hear someone narrate the film's visuals at the cost of its audio? The exception to this all-important rule is the track for 1982's "Conan the Barbarian," which consists of 129 minutes of director John Milius and star Arnold Schwarzenegger pointing out all the cool stuff in their movie. "Look at it!" Milius says, in a typical exchange, "What a way to go! Eaten by armored rottweilers," to which Arnold replies, "That is a wild scene." So points off for obviousness, but you can't deny their enthusiasm; on more than one occasion, Milius is so proud of his accomplishments that he's moved to remark, "God, that's a good scene."
The two make a perfect team: Arnold's lunkheaded amusement ("Look at me sleeping there. That is funny!"), and Milius' macho pseudophilosophy ("You are free! And you don't know what freedom is. Freedom is the wolves!"). They're not trying to be funny — they're trying to be deadly serious — which, of course, is precisely what makes it funny. For instance, Milius compliments a woman (I think) by saying, "Look at that wonderful Viking face she has." Schwarzenegger was reportedly paid $50,000 to provide commentary for "Total Recall," but whatever Universal paid him and Milius for this masterwork of manliness, it was worth it. (Check out the sample dialogue here and tell me I'm wrong.)
2. Honesty is the Best Policy
In the world of commentary tracks, everyone gets along. As soon as the microphones go on, all the diva freakouts, creative dust-ups and contract disputes vanish, and in their place appear bland platitudes like "They were a pleasure to work with!" Of course, you can't really blame someone for choosing not to badmouth someone on the record. It's spiteful, it's childish and it's probably not very good for your career. But it's so entertaining to watch! For an exception to the rule, check out Jeremy Piven's astoundingly bitter track for the 1994 cult comedy "PCU." Piven is still upset that director Hart Bochner, who he derisively refers to as "the director, Hart Bochner," didn't let him improvise any of his lines. Though he's glad the film ultimately found an audience on home video, he thinks the movie could have been much funnier (not to mention more "anarchic") if he'd been given free rein to improvise.
Piven doesn't just insult his director, though; he also knocks his own acting a few times, and even makes fun of how much more hair he has now than he did in the mid-1990s ("I take a lot of Chinese herbs," he says). He goes so far as to take credit for the movie's most famous line ("Don't be that guy,'" Piven tells Jon Favreau as he's about to go to a concert wearing the band's T-shirt), as the example of the only time Bochner — excuse me, the director, Hart Bochner — gave him the freedom he asked for. The "PCU" track couldn't have helped Piven's reputation as a "difficult" actor. But it earned him a new level of respect in my book.
3. If You Can't Be Yourself, Be Someone Else
At the opposite end of the spectrum from Rule #2, the special edition of "This is Spinal Tap" features a terrifically entertaining commentary track from Michael McKean, Christopher Guest and Harry Shearer as Spinal Tap, still bitter about their portrayal in this "rockumentary" and still just as hilariously dumb as ever. Their in-character commentary is often as quotable as the actual movie: at one point, David St. Hubbins (McKean) refers to the album "Rock and Roll Creation" as an "underlooked concept album." Without missing a beat, Nigel Tufnel (Guest) quickly chimes in "…and underbought."
Arguably even more impressive is Robert Downey Jr.'s contribution to the cast commentary on the film "Tropic Thunder." Staying true to a joke in the film that his character, crazed method actor Kirk Lazarus, doesn't break character until after he records the DVD commentary, Downey does the entire track as the dude playing the dude (Lazarus) disguised as another dude (Lincoln Osiris, in his stereotypically African-American voice), despite the fact that he's recording it alongside co-stars Ben Stiller and Jack Black, who are definitely not in character along with him. As Stiller and Black incredulously laugh along, Downey Jr. comments on the entire film as Lincoln: even more impressively, when his character onscreen assumes Asian or Australian accents, he seamlessly slips into those, and only assumes his real voice for the closing credits. It's a silly gag and in lesser hands, it could have become awfully tiresome. But Downey Jr. is so good, he turns a dumb joke into a jaw-dropping acting clinic.