First look: behind-the-scenes of Fool's Gold's "Surprise Hotel."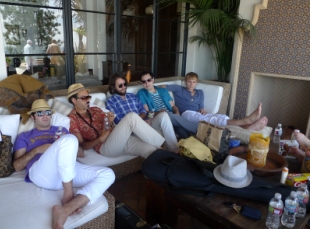 Posted by Brandon Kim on
Fool's Gold is a collective band from LA but you might think they're from Buenos Aires, or Tel Aviv. Maybe even Marrakech. In fact, the spirit of their music and the confluence of influences conjures a Moroccan vibe for me, a hypnotic African jive rooted in driving rhythms but with plenty of melodic depth. Perhaps if Sufi's from "The Jewel of the Nile" were there in "Romancing the Stone's" South American jungle when Jack T. Colton and Joan Wilder got deep in the marijuana plane….
(Fool's Gold, chilling at the shoot. Photo credit Emily Ulmer.)
Vocalist/bassist Luke Top sings in Hebrew and English. He started the band with lead guitarist Lewis Pesacov, of Foreign Born, to explore their mutual passion for African music and 80's pop. Eventually, they brought on board Argentinean pop star Erica Garcia. Other members of Foreign Born are included with Garrett Ray on drums and Matt Popieluch on guitar. Percusionist Orpheo McCord (who was drummer for The Fall), Michael Tapper (ex-drummer of We Are Scientists) and Brazilian/Mexican visual artist Salvador Placencia are part of the crew, among others.
Lewis Pesacov described the band as "akin to the early spirit of The Smiths – kind of like as if Congotronics were fronted by Morrissey." That's probably more informative than my 80's film obsession, but I'm not sure it's really more helpful. Better yet, give them a listen yourself while you peruse these photos of the video shoot for their song "Surprise Hotel."

"Surprise Hotel" by Fool's Gold.
That's my guy in the pool there. More on the video later! Fool's Gold releases their debut record on IAMSOUND Records, September 29th. All photos by Emily Ulmer.