"He Doesn't Have My Permission to Die Yet!": Twelve Evil Movie Wardens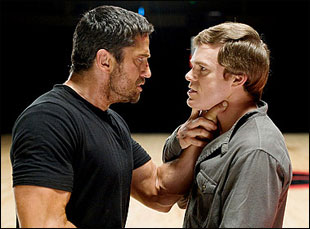 Posted by Matt Singer on
Nobody wants to go to jail. But if you've got to go to jail, just hope you don't do it in the movies. Odds are if you're going to movie jail, you're going to wind up at the mercy of some jerk warden (or captain or superintendent or game show host of a dystopian future) who wants to torture you for kicks.
It happens time and again, most recently in this week's "Gamer" where poor Gerard Butler plays an inmate who finds himself as a running man in a death race against the southern-accented treachery of Michael C. Hall. In honor of "Gamer," here are 12 more corrupt and sadistic movie wardens who could scare anyone straight.
Strother Martin as The Captain
"Cool Hand Luke" (1967)
"What we've got here is… failure to communicate." It's not just the most famous line ever spoken by a movie warden; it's one of the most famous lines in movie history. (The American Film Institute ranked it the 11th most memorable movie quotation of all time on their list "100 Years… 100 Movie Quotes") Many movie wardens play at gentility: all eloquence, kind words, and good manners until the inevitable meltdown, but Strother Martin's Captain has a downright grandfatherly presence in his early appearances: speaking warmly about his prison camp in that nasal Southern twang and quietly observing his charges from a rocking chair on his office's porch. That approach might work with most of the inmates, but not with Luke Jackson (Paul Newman). The Captain gives Luke a preemptive stint in "the box" to ensure he doesn't try to escape in order to attend his mother's funeral; instead, it provokes Luke to try one escape after another. After his first failed attempt, the Captain parades the captured Luke in front of the other inmates; when Luke talks back, the Captain loses his cool. "Don't you ever talk to me that way!" he screams. It's then that the Captain says his famous line, perhaps most memorably because what he is trying to communicate should be entirely clear. It's just that Luke refuses to listen.
Barbara Steele as Superintendent McQueen
"Caged Heat" (1974)
For a Roger Corman-produced women-in-prison exploitation picture, Jonathan Demme's "Caged Heat" is awfully experimental. It features extensive dream sequences and some very thinly veiled subtext about feminism and sexuality. And yet even a film this willing to play with convention is still beholden to the evil warden syndrome. (It's also beholden to the "women in prison tend to shower a lot syndrome" too, but that's a conversation for another time.) Barbara Steele's Superintendent McQueen even looks sinister with her schoolmarm clothes, slicked back hair, big glasses, and cold scowl. Slowly prowling the halls in her mechanized wheelchair, McQueen's repressed, robotic demeanor stands in contrast with the sensual, free-spirited inmates. And, of course, she's not to be trifled with — "We punish here as well as correct," she warns. Though McQueen doesn't win the award for most depraved prison employee — that would be the prison medical director who sedates his patients then molests them — she's no saint, either. She tacitly condones his bad behavior by authorizing the doctor's use of electro-shock therapy in order to sedate an agitated general population. Her only concern? Making sure he gets the women to sign the release forms before he turns them into vegetables. Experiments are well and good, but you've got to be covered in case they go bad, the same way you'd make an experimental women-in-prison film with lots of shower scenes.
Eddie Albert as Warden Hazen
"The Longest Yard" (1974)
It is a curious fact of prison movies, particularly those of the variety featuring corrupt or sadistic wardens, that they make us root for the criminals who make up the villains of just about every other movie involving cops and crooks. Consider "The Longest Yard," the story of a football game between the prisoners and guards at a Florida jailhouse. Both sides play dirty, but we root for the cons. Why? Because the cons break the rules, but they do it for the right reasons. The guards cheat on the orders of their boss, Warden Hazen, who takes so much pride in his prison's semi-pro football team he can't bear to see them lose at the hands of the inmates. So he threatens their captain, former pro Paul "Wrecking" Crewe (Burt Reynolds), with an extended sentence if he doesn't throw the game. (He's previously issued his second-in-command a similar ultimatum: win this season's championship or look for a new job.) So, yes, Crewe might lead the "Mean Machine" by sending one guy to the hospital with back-to-back intentional throws at his groin — but only in retaliation for the guards' own sneaky moves. They cheat with integrity.
Patrick McGoohan as Warden
"Escape From Alcatraz" (1979)
Patrick McGoohan plays the evil Warden with icy fastidiousness. A stickler for personal grooming, he flicks out his gleaming nail clipper while speaking with Frank Morris (Clint Eastwood), the high IQ inmate who will mastermind the only escape from Alcatraz prison. Stalking around his office with a ramrod posture and daggers in his eyes, McGoohan is a frightening vision of bureaucratic amorality. He over-enunciates every word, snapping his jaw shut with military precision before harassing a pet bird in its cage. That this blunt metaphor is effective is a tribute to McGoohan's controlled ferocity. He is the antagonist in Don Siegel's otherwise austere drama, a film more concerned with the process of escaping than the escape itself. Siegel spends as much time attending to dirt disposal as the Warden does on his well-manicured fingernails. Without McGoohan's juicy performance, "Escape From Alcatraz" would be as static as Bresson's sublime prison movie, "A Man Escaped." And despite the fact that Warden is clearly a dramatic construction doesn't detract from his power, for whether he's withdrawing paints from an aging artist or stamping on a memorial flower, McGoohan imbues him with an unforgettably soulless menace.