Eight offensive quotes on the Polanski situation.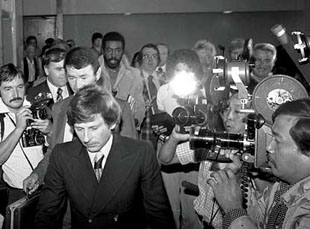 Posted by Vadim Rizov on
In a case as tangled with moral, legal and straight-up emotional arguments as the ongoing Roman Polanski one, there's plenty of room for reasonable people to disagree. But wherever you stand, you'd hope at least people would avoid making the debate needlessly glib. And you'd be wrong. Here are eight of my favorite stupid statements made, in the interest of being fair and balanced, by both the media's prosecution and defense of Polanski:
Prosecution
1. "He raped her in a lot of different ways. We're talking sodomy and… other styles of rape." –Wendy Murphy on MSNBC's "Hardball".
Without being too flippant about it, Ms. Murphy's imprecision isn't exactly making the best case; I wonder how many "styles" of rape there are, and I have to point out that sodomy can be perfectly consensual. A few sentences later, she notes that abroad, Polanski was "hanging around on the Left Bank," which kind of gives the game away; Murphy, a noted Bill O'Reilly compatriot, knows how to tie in her undeniably sincere rape-victim advocacy to a broader culture war. Because really, why does it matter if he was on the Left Bank or in a Trappist monastery?
2. "Polanski is a great film director — although the much-acclaimed "Chinatown" has a muddled script — but his true talent is to make fools of his friends." –Richard Cohen editorializing in the Washington Post.
In an incoherent editorial, Cohen basically proposes that Polanski doesn't have to be prosecuted as long as Cohen gets to punch him just once. A lot of the prosecution crowd accuse Polanski's defenders of having a double standard for anyone who's a "great director," and wonder how they'd feel if he was "Polanski the Plumber"; Cohen pulls the same trick in reverse. If "Chinatown" isn't that good, then we really have to prosecute him. Wait, what?
3. "None of this, as my grandmother used to say, is 'good for the Jews,' especially at a time they have far bigger fish to fry. It is also worth noting, although cruel, that Polanski has admitted to being unfaithful to Sharon Tate during their very brief two-year marriage, an admission made only under oath many years after carrying the torch for Tate as if she were his own personal second Holocaust." –Roger L. Simon at Pajamas Media.
Blaming Polanski for being arrested at a time when the world needs to focus on Iran potentially launching a missile at Israel — or, uh, being a bad Jew and encouraging anti-Semitism? — is a total non sequitur. Also, it actually isn't worth noting Polanski cheated on Sharon Tate; it has nothing to do with the matter at hand.
4. "He pleaded guilty to unlawful sex with a minor in 1977, then beat it for France,
where I'm not sure that's even a crime." –Andrew Klavan, also on Pajamas Media.
Ha! Another joke about the French! Order up one more batch of freedom fries! (For the record, the age of consent in France is 15, one year younger than in most American states.)
Defense
1. "I suggest, in the finest American tradition, we protest this absurd and deplorable act by smashing our cuckoo clocks, pawning our Swiss watches, and banning Swiss cheese and chocolate." –Joan Z. Shore on the Huffington Post.
Shore ends up blaming the Swiss for it all. It's obviously tongue in cheek, but she begins the column by reminding us of Switzerland's dubious "neutrality" in World War II. Surely Nazi complicity and the arrest of Polanski aren't quite on the same level?
2. "The jury of the international Zurich Film Festival has decided to proceed in honoring films and filmmaking despite the philistine nature of the collusion that is now occurring." –Debra Winger, speaking at the festival.
Because the only reason Polanski would be arrested is a lack of appreciation for his movies.
3. "I know it wasn't rape-rape. It was something else but I don't believe it was rape-rape." –Whoopi Goldberg on "The View."
Beyond this being phrased like a teenager wondering "Does (s)he like me, or like-like me?", rape doesn't work like that, and few are really disputing the facts of what Polanski did.
4. "Whatever you think about the so-called crime, Polanski has served his time." –Harvey Weinstein editorializing in the Independent.
"So-called crime"? Really? That's not helping.
[Photo: "Roman Polanski: Wanted And Desired," 2008, HBO.]