Early Day Miners, The Treatment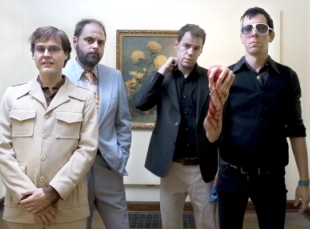 Posted by Brandon Kim on
Bloomington Indiana's Early Day Miners release their 5th full length record, The Treatment, today. It's more accessible than their previous efforts and that's not code for dumbed down. Perhaps their last album, Offshore, was too sprawling, too long winded for some. Even listless shoe gazers like some pep in their pop, it's a good thing.
(Early Day Miners. Photo by Rebecca Drolen).
Founding member and singer/guitarist Daniel Burton has overseen many changes to the bands line up since 2000 and a 'musical-cooperative' seems to have been the original idea. Once mentored by Daniel Lanois in LA, Burton is a collaborator, and teams up with new folk on nearly every record, as well as live shows. Amber Webber (Black Mountain), and John McEntire (Tortoise) worked on the last album.
The Treatment is looser, more popped. I'm hearing dashes of The Cure, and I can't tell if that's dabs of Peter Gabriel or TV on the Radio rolling around in there. Stop playing with my mind Burton. The immediate stand out for me is "So Slowly," just in time for the end of summer. Enjoy the thick bass and wah-wah, and your last sweat drenched fondlings for another year.

"So Slowly" by Early Day Miners.
The Treatment is available on CD or LP here.