Disney loyalty in Tomorrowland.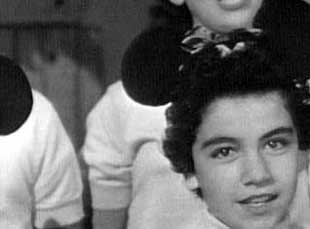 Posted by Vadim Rizov on
Today is day two of the first ever D23 Expo, one of the weirdest flexings of corporate muscle I've ever seen. D23 is like Comic-Con for Disney fans. Adults are invited to pay $90 for a four-day pass or $30 for one (kids get in for $66/$22) to go listen to an extended sales-pitch. Well, some of the time: the schedule is vast and unwieldy, with something for everyone (…who is rabidly into Disney).
Just like in Disneyland, you can take a photo with a widely beloved character. The type of person who wishes he were a business reporter can attend sessions with high-level Disney chairmen. The historically minded can enjoy dry-sounding panels like "The Magic of Disney in the Art of Disney Stamps": "Starting with a 1968 commemorative Walt Disney stamp, some of the most popular stamps in USPS history have honored the Disney legacy. Hear this trio discuss the history of stamps, the USPS stamp program and the inspiration behind the ever-popular Disney stamp collection." W00t! And Thomas Kinkade is doing a meet-and-greet.
The event is meant to be a consolidation of Disney brand loyalty, which, the New York Times' Brook Barnes writes, is widely considered "one of the strongest in the world." But today's Disney empire has all kinds of products that aren't very Disney-esqe; part of the expo (like a floor exhibition cleared off to props from "Lost") seems designed just to club you over the head with how much the company owns.
No matter how successful Disney continues to be, it's hard to imagine the company commanding the same shiny, mythical ethos that gave it a stranglehold over the childhoods of American children decades ago. (Or, on the flipside, made "Disneyfication" a quick and dirty pejorative for crass commercialization and emotional sanitization.) People just don't build that kind of all-consuming attachment to a corporation these days. (With the possible exception of Pixar, which would be exception-that-proves-the-rule territory.) "Pirates of the Caribbean" was huge worldwide, but how many people saw it because of their devotion to Disney?
Truth is, a guy like George Reiger, who showed up covered from head to toe tattooed in Disney characters, is a bit of a relic. The loyalty that brings people to attend late-night screenings of 1959's "The Shaggy Dog," featuring "Disney Legend" Tommy Kirk in attendance is nowadays only backwards looking. Will similar crowds show up in 50 years to pay tribute to Tim Allen's turn in the remake? I think not.