Destroying the World to Save It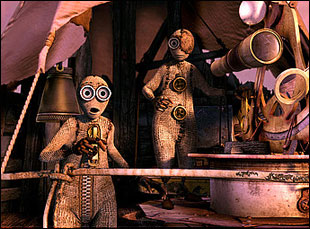 Posted by Sam Adams on
Is it too late for "9" to be the action movie of the summer? Shane Acker's dystopian fable shares a subject with the latest entries in the "Terminator" and "Transformers" franchises (not to mention "Battlestar Galactica"), but his direction is a model of clarity and grace, and his animated, inhuman protagonists are more life-like and individuated than those of the average blockbuster.
Acker's feature, an expansion of his Oscar-nominated short, is set in a sandblasted future littered with desiccated bodies and shattered buildings. There are no humans — the last dies just before the film begins — but life, of a sort, still stirs amidst the rubble in the form of nine tiny figures, each with single digit etched into its back. With their burlap bodies and zippered torsos, they're like toys from the pre-industrial era, part mechanical and part organic. Although they're all the product of the same hand, Acker gives each one a distinct body type and personality: 1 (voiced by Christopher Plummer) is the self-appointed leader, decked out in a cape and pontiff's hat; 8 (Fred Tatasciore), his hulking henchman, is a bulging sack with a lopsided mouth. 7 (Jennifer Connelly) is a warrior, thought lost to "the emptiness," 3 and 4 are mute twins with inquisitive natures and movie-projector eyes. 9 (Elijah Wood), the most recent model, is naïve and newborn, but his ignorance of the bleak past proves a valuable asset.
Their enemies, and the architects of humankind's obliteration, are mechanical through and through — giant, clanking things with red, flickering eyes, their surfaces a maze of jagged edges and menacing protrusions. They, too, are intelligent, but vastly more single-minded. Their sole objective is to wipe out whatever vestiges of humanity remain, including the nine final creations of the scientist who ushered in the age of the machine.
A newsreel recovered in the wreckage shows the scientist perfecting a metal orb with an unblinking red eye (a deliberate homage to "2001"), then watching impotently as his invention is appropriated by a bellicose general and used to make instruments of war, which eventually band together and turn on their creators. The part of the scientist is, fortuitously, voiced by Alan Oppenheimer, whose surname cements the obvious parallel to the development of the atom bomb. The villain here is not technology per se — Acker is, after all, a computer animator — but uniformity. The newsreel shows the general flanked by fascist regalia, and details humanity's defeat by "the iron fist of the machine."
Acker is wobbly with the mechanics of plot; the script, by Pamela Pettler ("Monster House," "The Corpse Bride"), grows more strained as the movie builds to its climax, a display of spiritualist smoke and mirrors too vague to provide the hoped-for uplift. But he makes real characters out of his cloth and metal constructions, and the movie's action sequences have a spatial coherence that has all but vanished from the live-action realm. When 9 and his cohorts are set upon by a hawk-like robot, or menaced by a contraption that's a cross between a poisonous snake and a sewing machine, you have a tangible sense of their peril because you can visualize the space around them and get a feel for the distance between threat and safety. Making one action clearly follow another shouldn't be a rare talent, but there are plenty of bigger-budget directors who could stand a refresher course.
Mark Neveldine and Brian Taylor — who, due to the Directors Guild's arcane rules, are billed as the hybrid entity Neveldine/Taylor — specialize in the kind of whiplash-inducing action from which "9" provides a welcome respite. But they cleverly play both sides by fashioning their movies as implicit criticisms of the style they embody. Jason Statham's Chev Chelios, the protagonist of the duo's "Crank" films, is an action antihero, a ruthless hit man whose life depends on keeping his heart rate elevated — a devilish conceptual equivalent to the nonstop action the genre demands.
"Gamer," which opened on Friday without screening for critics, takes a marginally more sober tack, beginning with the substitution of stolid Gerard Butler for the antic Statham. Butler plays Kable, the reigning champion of the live-action video game "Slayers." He has a real name, too, but it's a closely guarded secret, part of the past obliterated by the bioengineered cells that have turned his lower brain into a Wi-Fi hotspot. In the movie's flesh-and-blood analogue to first-person shooters, Kable and his fellow death row inmates are remotely controlled by pallid teenagers and obese shut-ins, their neat gunshots sending plumes of blood spurting from their opponents' foreheads. Part networked competition and part reality show, the game is the brainchild of greasy software genius Ken Castle (Michael C. Hall), whose other triumph is a "Sim City" clone called "Society."