Coco Before Chanel, Tautou, Desplat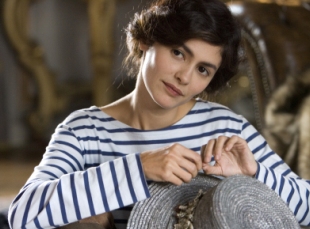 Posted by Brandon Kim on
"Coco Before Chanel" tells the tale of the infamous French couturier whose tres cool penchant for masculine flourishes changed the way women could present themselves in society. I think. Certainly her tweeds and the simple lines of her equestrian themed outfits helped ride in the modern sartorial era – less feathers and puffs. Pants and jackets for women. Even the most fashion illiterate person knows the name if only for the perfume she created. I like Marilyn Monroe's response to being asked what she wore to bed: "Why, CHANEL N° 5 of course."
(Audrey Tautou as Coco Chanel. Photo by Chantal Thomine-Desmazures, Courtesy of Sony Pictures Classics)

The most adorable woman in film, Audrey Tautou, plays Gabrielle "Coco" Chanel, the orphan seamstress turned cafe singer, turned household name designer. Before writing the screenplay, director Anne Fontaine met with Tautou. "During my first encounter with Audrey, I was struck by her will, her audacity, and the density of her gaze that goes through you," she said and knew that Tautou was the right actor to embody the legend on the big screen.
Composer Alexandre Desplat scores the film. "I think Coco Chanel had a pair of eyes that were very particular in real life, and so does Audrey Tautou. They both have the same gravity and intensity," Desplat commented. "She is not just watching. She's scrutinizing and really intensively watching. She's grabbing a detail, a colour, a shape that becomes something of her own once it goes through her filter." Everyone seems obsessed with her eyes. I swear I saw them first.
Desplat has been very busy, scoring 37 films since 2003's "Girl with a Pearl Earring" when I first heard of him. They include everything from "The Curious Case of Benjamin Button" to "Julie & Julia," to the French war film I wrote about last week that 4 people will go see called "Intimate Enemies." He's also recently finished scoring Terrence Malick's "The Tree of Life" starring Brad Pitt and Sean Penn.
"Coco Before Chanel" releases September 25th in the US.