Chuck Prophet, swine flu, rock doc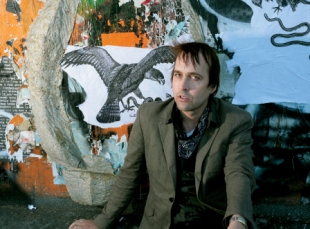 Posted by Brandon Kim on
San Fransisco singer and guitar slinger Chuck Prophet (of the 80's Paisley Underground scene'sGreen on Red) decided to skip town, gain some perspective and record an album about America's recession ills. The place he chose was Mexico city, for the energy and a studio that was "totally state of the art…. for 1957."
What he and his compatriots didn't count on were the blow outs, brownouts, the major earthquake, or the swine flu pandemic. But it produced some rock and roll and everyone got out alive. Luckily they were filming too, and this documentary for Prophet's album ¡Let Freedom Ring! is in the works.
"We started hearing about Swine Flu around the third day. We donned the masks. There was a lot of bad information floating around. Maybe they won't let us back in the States. Paranoia set in fast; I was worried about the guys. But it made us feel like a band." Prophet's band was guitarist Tom Ayres, bassist Rusty Miller and drummer Ernest "Boom" Carter along with producer Greg Leisz (Wilco, Beck) rolling the tape in the vintage studio.
Dig the trailer:

New Album ¡Let Freedom Ring! out Oct. 27 on Yep Roc.