Celebrating Labor Day with Michael Moore.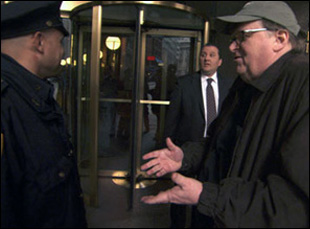 Posted by Vadim Rizov on
Happy Labor Day! Here, let Michael Moore make you feel better about working. Most of us, now more than ever, would prefer not to lose our jobs; Moore, on the other hand, views permanently severing himself from his financiers as something to be desired. As Arifa Akbar reports from the Venice Film Festival in The Independent, Moore mocked Paramount for funding his latest film, "Capitalism: A Love Story," saying, "Why would these companies give money to me, a guy who is diametrically opposed to everything they stand for?" Furthermore, he's had a grand plan ever since "Sicko" to save up his cash so that he can finance himself if need be. And now that day has come: "I think this is the last time they will give me that money." Yay?
The reviews from the Venice premiere are predictably mixed and a bit wishy-washy. As The Playlist astutely notes, "We just wish for once, someone would tell us what they thought instead of wondering how everyone else will feel." There's absolutely zero conservatives reviewing the movie at this time, and it's easy enough to figure out how they'll respond to an anti-free market movie. All the liberal viewers concede the usual gross sentimentality, hackneyed attempts at pointless guerilla interviews and Moore's unnecessary constant presence. They're just not sure if it'll do achieve what it intends to achieve. (Answer: Just like "Fahrenheit 9/11" failed to sway the '04 election and "Sicko" failed to change the dialogue on health care one bit, so too will this fail.) Some — like indieWIRE's Shane Danielson — think it's blatantly "made for idiots," and wishes Moore would treat his audience as equals rather than inferiors. Others get swept up in the sweeping indictment of it all; The Guardian's Xan Brooks, yet finds it "hard to resist" Moore's "simple moral universe inhabited by good little guys and evil big ones."
Brooks also notes that Moore concludes that "Capitalism is both un-Christian and un-American, an evil that deserves not regulation but elimination." No review makes clear if Moore actively labels himself a socialist in the film, but it's pretty clear — between the reviews and interview quotes — that he's headed that way in perhaps everything but name. Which, whatever his (many) flaws, makes him America's first bona fide socialist propaganda director in eons, and possibly ever. (The only previous American socialist movie popping to mind is 1954's curiosity "Salt of the Earth.") Technically, propaganda generally gets commissioned to serve a government, but Moore's decided to potentially alienate the large part of his fan base, those blue-collar Americans who are against corporations screwing them but also against any form of "socialism." Then again, his last movie — "Captain Mike Across America," a.k.a. "Slacker Uprising" — was so unappetizing to distributors that no one would buy it and Moore ended up giving it out as a free download. So maybe now that he has enough money to never need to make money, he's going all out and saying what he's probably thought for years without worrying about the consequences, albeit in the same tiresome form as always… and hedging his bets as always.
[Photo: "Capitalism: A Love Story," Paramount Vantage/Overture Films, 2009]