Blind Pigs, Horse Boys and the Nines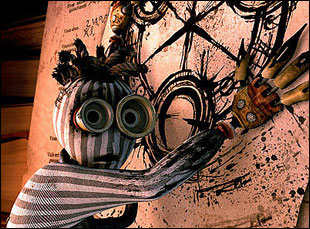 Posted by Neil Pedley on
As the super-serious prestige season begins to gear up in Telluride, Toronto and Venice, an odd blend of matters spiritual, ecological, supernatural, and extraterrestrial are coming to a theater near you this week.
Subscribe to the In Theaters podcast: [XML] [iTunes]
"9"
After his Oscar-nominated short turned the heads of producers Tim Burton and Timur Bekmambetov, former Weta artist Shane Acker delivers a full-length version of his terrifying vision of the future with this dark, dystopic animated fantasy. Boasting an all-star line-up of voices including Elijah Wood, Martin Landau, Jennifer Connelly, and John C. Reilly, "9" follows a group of sentient dolls, created during the final days of a devastating war against machines, who lead a post-apocalyptic search for a mystical life-giving device that will restore the spark of humanity to our otherwise decimated world.
Opens wide.
"9.9.09"
After more than 25 years of lugging the camera around on countless DTV nasties, cinematographer Howard Wexler takes only his second turn in the director's chair, combining alien plagues, prophecies and pod people for this micro-budget sci-fi/horror hybrid. Perennial bit-parter Lochlyn Munro leads a cast of unknown up-and-comers as a small-town sheriff confronted by a spate of murders and disappearances linked to a mysterious meteorite and its parasitic passengers that transform simple folk into monsters.
Opens in Los Angeles.
"Crude"
Hoping to do for Chevron's share price what The Yes Men did for Dow Chemical, Emmy-Award-winning filmmaker Joe Berlinger skillfully knits together an eco-doc, a humanitarian drama and elements of a tense legal thriller in documenting an epic environmental disaster unfolding in Ecuador. Spending three years alongside the sick and the disabled, Berlinger chronicles the achingly slow progress of the largest environmental lawsuit in history, where the shambolic nature of the legal system really does allow one to make those fist-pounding dramatic speeches in a crowded, camera-filled courtroom.
Opens in New York; opens in Los Angeles on September 18, followed by a limited release on September 25th.
"Appearance of a Man"
An extraterrestrial encounter leads to a crisis of faith for an Arizona preacher in this handmade mystery from writer/director Daniel Pace, his first for almost ten years. Tackling the sprawling global war between science and religion that continues to rage on, Pace offers his interpretation of the famed Phoenix Lights phenomenon, one of the most famous UFO incidents of our time with a story centered on Father Daniel (Tom Basham), who begins to question everything he thought he knew following an encounter with a mysterious being, possibly from the stars,
Opens in Tempe, Ariz.
"Beyond a Reasonable Doubt"
Given his recent track record of directing mostly dodgy action flicks starring '80s icons on the downslope ("Timecop", "End of Days"), it's tough not raise an eyebrow at writer/director Peter Hyams' decision to cast Michael Douglas in this retread of Fritz Lang's classic '50s film noir. Douglas, no doubt staying limber for his big Gordon Gekko reprisal, stars as Mark Hunter, a hotshot prosecutor targeted by a reporter (Jesse Metcalfe) who, suspicious of Hunter's legal tactics, frames himself for murder to catch Hunter in the act. Amber Tamblyn co-stars as a young D.A. caught between the two.
Opens in limited release.
"Blind Pig Who Wants to Fly"
Internationally renowned for his idiosyncratic, experimental short films, Indonesian avant-garde filmmaker Edwin delivers his first feature: a multi-stranded representation of the bubbling undercurrent of racial tension that sweeps away so many Chinese-Indonesians to the margins of society. Through a series of vignettes, Edwin weaves together the stories of an elderly pool player, a polygamous dentist, a badminton champion, and a blind pig into a swirling maelstrom that depicts a minority population forcibly trapped in a cultural limbo. In Indonesian with subtitles.
Opens in New York.
"Gogol Bordello Non-Stop"
Having spent six years following this rag-tag of folk singers, punks, and gypsies from Eastern Europe as they tirelessly toured the globe, filmmaker Margarita Jimeno offers us her imbedded account of this eclectic ensemble of artists that serve as one of the most enigmatic musical acts around. Centering on charismatic frontman and founder Eugene Hütz, a self-confessed Eastern European culture warrior who migrated to New York, Jimeno details Gogol Bordello's transformation from a cult favorite to a commercially viable global phenomenon.
Opens in New York.
"The Horse Boy"
The kind of story you just pray Hollywood never gets its paws on, this collaboration between Michael Orion Scott and Rupert Isaacson is a touching intercontinental saga of faith, hope, and sacrifice. Part travelogue, part family drama, and part holistic spiritual exploration, "The Horse Boy" follows Isaacson from Texas to Central Asia discovering his autistic infant son responds to horses, leading the concerned father to relocate his family to Mongolia where he hopes that a process known as shamanic healing can help to treat the boy in ways conventional medicine can't.
Opens in Dallas and Houston; opens in limited release across the country through the fall.
"I Can Do Bad All By Myself"
One of the hardest working men in film, Tyler Perry continues to champion the average African-American, showing that there is far more to black cinema than guns and gangs, with another tender portrait of a shattered family coming together – complete with the filmmaker's now-signature drag act. Taraji P. Henson stars as a self-absorbed wannabe singer who suddenly faces the responsibility of taking care of her niece and two nephews when they are caught attempting to rob Madea (Perry). Adam Rodriguez co-stars as a kindly local handyman who helps this makeshift family cope with their new circumstances.
Opens wide.