"At The Movies" about as good as it could be.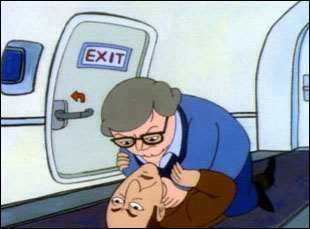 Posted by Vadim Rizov on
We're a long way from Siskel & Ebert, but the new "At The Movies" — featuring The New York Times' A.O. Scott and The Chicago Tribune's Michael Phillips — is on the air. They are, of course, the replacements for the short-lived, universally reviled duo of the Bens (Lyons and Mankiewicz); Mankiewicz himself didn't seem to get people too fired up, but Lyons was such an aggressively stupid guy that a site specifically devoted to relentlessly dogging him (a Web site that's the first result to pop up when you Google him no less) was the least of the protests.
There were some suggestions that Scott and Phillips were perhaps not the most naturally telegenic of hosts — two middle-aged dudes talking calmly and dispassionately about film? Filmed NPR? (A special "shut up" goes to Defamer's Richard Rushfield for using "erudite" as if it were a pejorative and whining that the preview video suggested a kind of "The Grad School Profs Still Talking Hours After the Dinner Has Been Cleared And Not Noticing Their Wives Have Passed Out in Their Seats." The John Hughes fan club will be here for the next decade, dude.) The early segments are in though — reviews of "9," "Big Fan," "The Burning Plain" and "All About Steve" — and everything looks fine.
Let's be clear: I'm not the target audience for a show whose maximum review time for a movie is around 3:30, which is apparently all that's allowed. Also, by the very nature of a show designed to engage a mainstream audience, Scott and Phillips aren't going to sit around and chat about Apichatpong Weerasethakul; "Big Fan" is about as far into the arthouse they're going to go. Which is fine, but those are the show's terms. And, by those standards, the show is not bad at all.
There are some things that are stupid, like the intro and outro music, which sound, respectively, like some horrendously misplaced Super Nintendo cue and some tragic '80s local news leftover. But I enjoyed the briskness of Scott's diving into the program — "Let's get to it and do what we came here to do" — and his predictably elegant phrasing, such as dubbing Mike Judge "our poet laureate of stupid." Not that Scott and Phillips point out anything about "Extract" that hasn't been noted in every single intelligent review of the film already, but how could they? There's no time, and the point is that Scott and Phillips are perfectly capable of boiling their respectable taste into a kind of brief primer on the main talking points for mainstream releases.
I also immensely enjoyed watching Scott mock "The Burning Plain"'s stupid jumbled chronology by delivering his review out of order: "Is her name Sylvia or Mariana? Skip it! Birds fly through the air." I hear Phillips and Scott can be quite funny, and hopefully they'll have more chances to loosen up and show that erudition and humor aren't mutually exclusive. And they know how to keep it in check: talking about "9," Scott namechecks "Eastern European animation" as a reference point, which I presume is code for "Jan Švankmajer," which would admittedly confuse 99% of viewers. So it's all good. While this isn't the kind of show I'll be watching on a regular basis, it is certainly a good thing for the overall TV landscape, and perhaps it will encourage non-cinephiles to not dismiss critics who don't like "Transformers 2" as whiny egghead elitists. But don't hold your breath. Here's Scott torching "The Burning Plain":
[Photo: "The Critic," Columbia Pictures Television, 1995]