All Tomorrow's Parties: Barry Hogan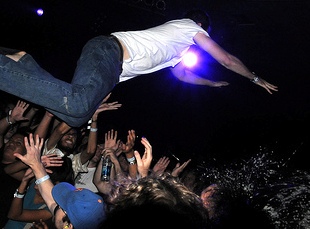 Posted by Brandon Kim on
The acclaimed festival, All Tomorrow's Parties will take over Kutsher's Country Club in Monticello, New York for the second time since it's founding in Britain ten years ago. I talked to it's founder, Barry Hogan about it and his revulsion for corporate branding.
(The Dinosaur Jr. crowd at 2008's ATP in NY. Photo by Abbey Braden © ATPNY 2008)
Though an admitted "potty mouth," especially in the forthcoming film about the festival, "All Tomorrow's Parties," he kept it cool when I pressed him on British Imperialism and why he's got his nose in everything from the ATP film to an ATP toy company.