Alain Resnais on the death of cinema.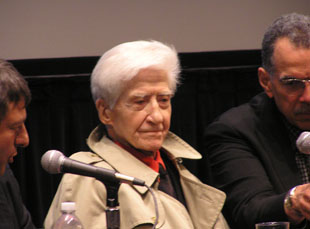 Posted by Vadim Rizov on
At age 87, Alain Resnais has produced one of his boldest films. "Wild Grass," which opened the New York Film Festival on Friday, is just wild, blending the audacity of "Punch Drunk Love" with the mindbinding qualities of Charlie Kaufman. The film's about a married man (André Dussollier) who finds a woman's (Sabine Azéma) stolen wallet and becomes obsessed with her — it reads like farce, but it's far, far stranger, a portrait of romantic willfulness staving off death.
The New Wave legend was here for a rare press conference, along with Dussollier and Mathieu Amalric, who plays a particularly goofy policeman. Film Society director Richard Pena kicked off the questioning by asking Resnais what prompted his first ever film to be adapted from a novel: "50 years ago, when I started making movies," Resnais replied, "I made a resolution to work only on original screenplays. I vowed at that time never to adapt a novel to film. I held my promise until last year, when I discovered Christian Gailly's novels… I later learned that Gailly had been a jazz musician for 20 years before becoming a novelist. After putting his saxophone away for good, he wrote his first novel at age 40, followed by 12 others. I read through them all and adored every one of them."
Resnais' no stranger to adaptations of plays: indeed, his last film — 2006's "Private Fears In Public Places" — was based on one by Alan Ayckbourn. He rejects thinking of theater and film as "as opposing forces confronting each other or at opposite poles of performance art." What Resnais finds in common is that in theater, once a scene is started the actors can't start over; in a theater, the projectionist can't be asked to back up. He loves the "imaginative space, which is itself the actors performing."
A vague question was raised as to where Resnais thought film was going in the future. "That's an enormous question," he responded, "which we should answer over dinner, and this dinner would last a week… I don't believe what I read every ten years about the death of cinema coming up." But he rejected any claim that his "Last Year At Marienbad" had reinvented cinematic grammar: "If you think 'Marienbad' started something, I can't imagine what you're talking about. If anyone really has a new way of expressing themselves on film, it's Arnaud Desplechin." At which point everyone turned to gaze at frequent Desplechin collaborator Amalric, who looked mildly embarrassed, and everyone laughed. "That's the quote," Pena said.
What we learned from Amalric: he was shuttling back and forth between this film and "Quantum of Solace" and was constantly pumped for information on the new Bond film by Resnais. Resnais is really into TV: "Law & Order," "The Shield," "The X-Files," etc. And what did he think of Resnais' prediction that cinema would continue as long as the human race does? "Alain Resnais is of the human race, but he's also a little…extraterrestrial." True enough.
[Photo: Alain Resnais (center), Richard Pena (left) and translator Lucius Barre (right), courtesy of Jason Shawhan.]